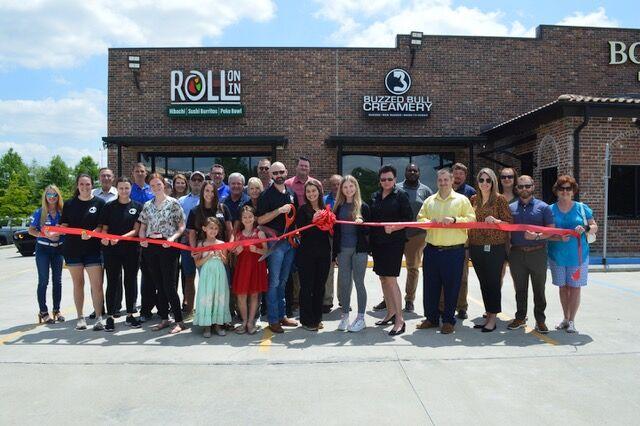 Buzzed Bull Creamery/Roll On In celebrated the opening of the joint business with an official ribbon cutting ceremony on May 10 with Livingston Parish Chamber. Owners Natalie and Ken Davis were on hand for the event, as well as their staff, Chamber Ambassadors, and other officials. The business is co-owned by the Davis' along with partner, Zach Braud.
Buzzed Bull Creamery features a liquid nitrogen creamery with hand-crafted ice cream and milkshakes which can be infused with alcohol. While the Davis' were on vacation in Tennessee, they stumbled upon Buzzed Bull and thought alcohol + ice cream in Louisiana was a no-brainer. Once they expressed interest in the franchise, the company, based out of Cincinnati, OH approached them about also including their sister company Roll On In which serves premium food in a unique fast-casual setting including sushi bowls and burritos.
The business officially opened earlier this year in the Sac Au Lait Center near Bass Pro at 2660 Sac Au Lait Lane, Suite C in Denham Springs. They can be reached at (225) 503-0605 and on Facebook at @buzzedbulldenhamspringsla and @rollonindenhamspringsla.