HAMMOND---Exceptional dedication to serving others, leadership, performance excellence and community involvement are among the accolades received by North Oaks Health System's 2022 Providers of the Year, Dr. Stephen Graham and Nurse Practitioner Charlie Shelton.
On an annual basis, the Medical Executive Committees for North Oaks Medical Center and North Oaks Rehabilitation Hospital select a Physician of the Year and Advanced Practitioner of the Year based on nominations from North Oaks employees, volunteers and providers.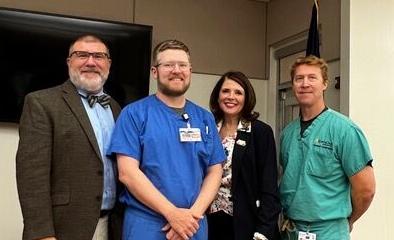 Selected as the 2022 Physician of the Year, Graham has been a provider with North Oaks Physician Group since 2012 as part of Northshore Urological Associates. No stranger to leadership roles, he has been serving on behalf of the North Oaks Medical Center Medical
Executive Committee as Member-at-Large since 2021. In addition, he is a past member of the Network Operation Council for North Oaks Physician Group.
Graham earned his medical degree at Louisiana State University Health Sciences Center in Shreveport and completed his internship in General Surgery and residency in Urology at the University of Kansas Medical Center in Kansas City. In addition to his medical degree, Dr. Graham earned a bachelor's degree in Kinesiology from Louisiana State University in Baton Rouge. He is board-certified in Urology by the American Board of Urology.
Nominations describe him "as a true professional who always puts his patient's care and well-being first." Nominators also repeatedly praise his graciousness and overwhelming dedication to his practice and coworkers.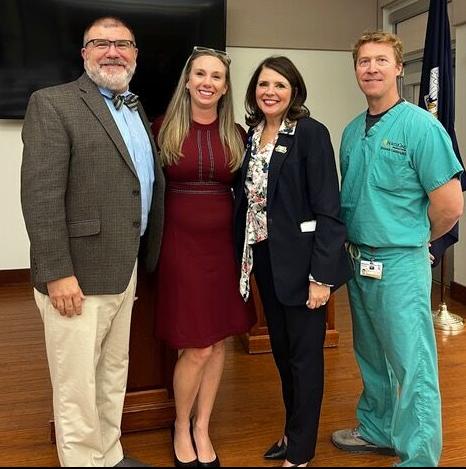 Designated as the 2022 Advanced Practitioner of the Year, Nurse Practitioner Charlie Shelton joined North Oaks Physician Group in 2013 as a nurse practitioner with North Oaks Cardiovascular Services. Shelton helps educate and support people with congestive heart failure to achieve their best possible outcomes. She works with her patients to establish a treatment plan, set goals and improve their overall quality of life.
Shelton holds a Doctorate in Nursing Practice (DNP) and a master's degree from the University of South Alabama in Mobile. She earned a bachelor's degree from Southeastern Louisiana University in Hammond. She is board-certified as a Cardiovascular Nurse Practitioner (CVNP) through the American Board of Cardiovascular Medicine and certified as a Family Nurse Practitioner (FNP) by the American Academy of Nurse Practitioners.
Nominations describe Shelton as "passionate about cardiology and educating others — whether patients, their families, or our clinic and hospital staff." Nominators also praise her as a mentor who strives to improve care delivery for patients throughout the health system.
Northshore Urological Associates is located at 15770 Paul Vega, MD, Drive, Suite 204 in Hammond and 17199 Spring Ranch Road in Livingston. To learn more about Northshore Urological Associates, visit www.northoaks.org/urology.
North Oaks Cardiovascular Services is located in North Oaks Cardiology Clinic at 15813 Paul Vega, MD, Drive in Hammond and 17199 Spring Ranch Road in Livingston. To learn more about North Oaks Cardiovascular Services, visit www.northoaks.org/hearthealth.
To schedule an appointment with Dr. Graham or Nurse Practitioner Shelton, call (985) 230-2778 [APPT] or (844) 277-8669.