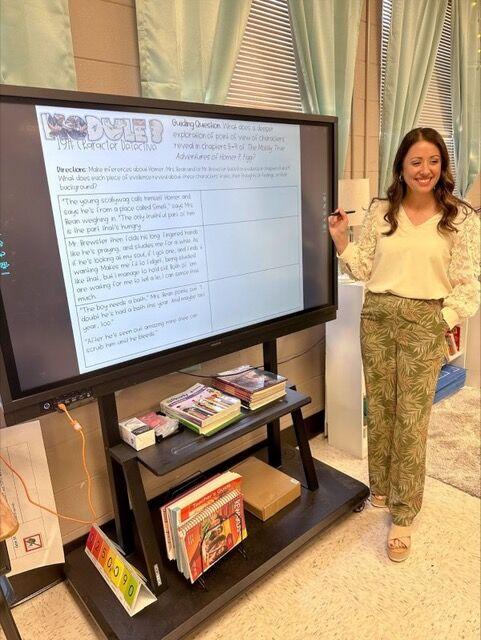 DENHAM SPRINGS, La. – The National Institute for Excellence in Teaching (NIET) recently spotlighted a Livingston Parish Public Schools teacher as part of its tribute to National Teacher Appreciation Week.
NIET recognized Northside Elementary Special Education Teacher Jessica Walker in its effort to identify teachers throughout the nation who are making enormous contributions to their schools and communities.
Walker teaches 4th and 5th grade special needs students. She took a non-traditional path to becoming a professional educator, by first working for Livingston Parish Public Schools in 2015 as a tutor. That experience inspired her to go to college to pursue a special education teaching degree.
Walker completed her education degree at Southeastern Louisiana University in 2021, while raising her family and continuing to work in the district. For the past two years, she has been a full-time classroom teacher.
For the spotlight feature, NIET asked Walker what is something that has made being a teacher worth the many challenges that exist in education.
"The opportunity to make an impact in the life of a child makes being in education worth it. My goal as a teacher is to reach the unreachable child and teach them to believe in themselves," she said.
"At the very beginning of the school year, I start working on building confidence. I want my students to approach every math problem, essay, question set, or reading assignment with a positive attitude. I have watched several of my students go from complete breakdowns while writing to smiling and proudly showing their essay to other teachers on campus," Walker said. "To watch a child bloom mentally and develop a love for learning while genuinely being proud of themselves–that is what makes it all worth it as a teacher."
Northside Elementary School Principal Ginger Bishop said Walker has been a "great addition" to her school family.
"Her dedication to her students and willingness to grow and learn is astounding. We are very fortunate to have educators as great as Ms. Walker help to ensure the growth and success of our students," Bishop said.
NIET partners with schools, districts, and states to develop sustainable systems for school improvement, teacher, and leader development, rubric and observation and comprehensive reform. For the past 20 years, NIET has worked in more than 9,000 schools across the country.