COVINGTON - The Northshore Food Bank Board of Directors is excited to announce Yvette Roussel as incoming Chief Executive Officer effective August 29, 2022. Yvette assumes this position succeeding Terri Turner-Marse, former CEO upon her pending retirement.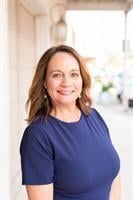 Yvette has worked for the Food Bank since 2015 in a number of roles, most recently as Development Director since 2020.
"I am so honored, grateful and beyond excited to be chosen to lead this amazing organization as its next CEO," said Yvette. "Terri has created a great foundation over the last 10 years and I intend to work every day to build on that excellence of service to our community."
Terri led the Northshore Food Bank for 10 years guiding them through a successful capital campaign, relocation to a new building, continued growth and implementation of several very successful and important programs and partnerships that continue to increase food distribution to specific audiences such as seniors, adults and children suffering from food insecurity on the Northshore.
"Yvette's unique knowledge of our organization, donors, partners, employees, volunteers, and those we serve is a tremendous asset that positions us well for future challenges and new directions in our collective battle against food insecurity," said Terri.
Since 1984, Northshore Food Bank (NFB) has served the Northshore by providing access to basic needs in Saint Tammany Parish, LA. NFB is a hunger relief organization, providing nonperishable staple foods as well as fresh and frozen items (as available) to individuals and families that qualify for food assistance. NFB has a variety of nutritional programs to reach the underserved such as its Community Cupboard, a collaboration with other nonprofit organizations that have identified food insecurity and assist in the distribution of food to those in need.
In 2021, NFB distributed 1.2 million pounds of food to over 15,000 food insecure individuals. Thanks to community support, NFB received over 1 million pounds of food donations and $1.1 million in funding.
NFB also has a Resale Shop that supports the food bank by raising funds for food purchases.
NFB is supported by the generosity of businesses, civic organizations, and individuals, and is a Candid Gold Transparency rated 501(c)(3) nonprofit organization.