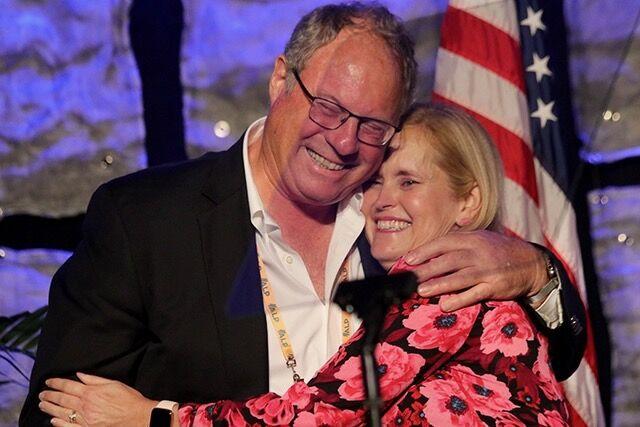 Amelia Island, Fla---Lisa Roache, CEO of Gainey's, an industry leader of precast concrete in Holden, Louisiana, was announced the recipient of the 2022 Robert E. Yoakum Award at the National Precast Concrete Association's 57th Annual Convention, the highest honor to be given by the association.
"I am in shock," said Roache, "but never speechless, so you don't have to worry about that."
Lisa Roache was an NPCA Board Member from 2006 to 2009. She has chaired the Marketing Committee, Septic Tank Product Committee, Education Committee, On-Site Wastewater Product Committee, and MIC Taskforce over the last 20 years. She has served on the Membership and Safety Committees, and is currently serving on the Outreach Committee.
Gainey's began in 1981 under the leadership of Roache's father, Richard Gainey. He installed septic tanks during the day and worked at a shipyard at night. Gainey's grew to be a success and purchased the property Gainey's still operates on today in 1994. Shortly after, Richard Gainey passed unexpectedly leaving it up to Lisa Roache to carry on her father's legacy. Roache turned to NPCA for advice as she took the reigns as CEO. She has been a force in the precast industry for almost the last 30 years.
"Lisa is as durable and resilient as the products her company makes," a spokesperson from NPCA said.
The Yoakum Award has been presented by NPCA since 1967 to an individual who has made significant contributions to advancing the precast concrete industry.
"There's no way I could've done this without my husband, Greg, coming alongside me and helping Gainey's become all you see today," Roache added. "I want to thank him and our team at Gainey's for keeping the dream alive all this time."
"No one is more deserving than our Princess Lisa!" says the team at Gainey's. "You have made Gainey's and our industry what it is today, and we could not be more proud and grateful. Congratulations on winning the National Precast Concrete Association Yoakum Award. We love you!"
About Gainey's
For over 40 years Gainey's has been the leading manufacturer of custom Wastewater, Stormwater and Industrial precast concrete products throughout Louisiana and the Gulf Coast. Starting as a residential septic tank installation company in 1981, it would soon grow to expand its portfolio to include new markets and various product lines. The company is alive and thriving, and constantly growing to accommodate the needs of an ever-changing industry.
About NPCA
Founded in 1965, NPCA connects leaders in the manufactured concrete industry through educational, leadership and networking opportunities.