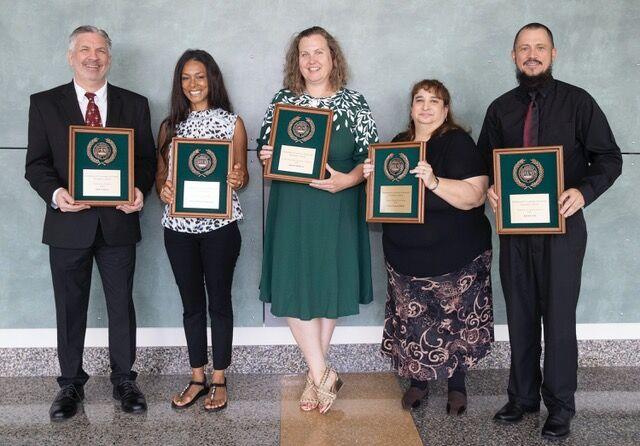 HAMMOND – Southeastern Louisiana University opened the 2022-23 academic year Friday (Aug. 12) with its fall convocation that included presentation of the President's Awards for Excellence, the university's highest honor for faculty and staff.
The event also included announcement of endowed professorships and scholarships, new faculty and staff, faculty tenure and promotion, and recognition of service awards to faculty and staff who have worked at the university for 20, 25, 30, 35, 40, and 45 years.
Receiving the President's Awards for Excellence were Director of Dance and Instructor of Contemporary Dance, Choreography, and Performance Keith "Skip" Costa, excellence in artistic activity; Professor of Mathematics Alan Cannon, excellence in research; Instructor of French Aileen Mootoo-Robertson, excellence in teaching; Associate Professor of Health and Human Sciences Laura Fazio-Griffith, excellence in faculty service, and Assistant Director of Intervention and LION UP Collegiate Recovery Annette Baldwin, excellence in unclassified staff service.
As a faculty member since 2013, Costa has made huge strides regionally, nationally, and internationally for artistic innovation within his InterARTS™ approach to dance and movement studies. He teaches masterclasses at the ACDA Conference representing the artistry of dance at Southeastern and takes students to perform choreography and participate in masterclasses with other nationally known teachers and choreographers.
Mathematics Department Head Timothy Hudson said Cannon has consistently demonstrated outstanding performance in professional research. "While ensuring that his students receive the best possible classroom experiences and continuing an impressive record of university service, Dr. Cannon has shown a clear vision and devotion to his long-term research agenda that has resulted in a significant body of research activity, including an impressive publication record in peer-reviewed research journals and books, conference presentations, conference organization, and refereeing and reviewing research papers," Hudson said.
Mootoo-Robertson began her career as an instructor of French at Southeastern in 1994. She says teaching goes beyond merely transmitting information – it is also a platform where students can develop personally and explore the endless possibilities for a successful life. Mootoo-Robertson has experience in teaching elementary through university level courses. She has served as the French Dual Enrollment coordinator and has recruited French students for Southeastern.
A faculty member since 2010, Fazio-Griffith is the only registered play therapist on the graduate counseling faculty, and she has developed courses and provided training opportunities for the students. In fact, as a result of her dedication and service, graduate students can complete six hours in play therapy to work to become registered play therapists. The ultimate reward for Fazio-Griffith's efforts came last year when Southeastern was named an Approved Center of Play Therapy Education and Training Site by the International Association of Play Therapy, making Southeastern one of only three approved sites in Louisiana.
Baldwin has worked at the university in counseling for 18 years. Outside of her job as a counselor, her service to the Southeastern community includes initiating and developing the Terrell Conference, which provides continuing education to licensed mental health professionals throughout the area. Her role has changed over the last two years to more of a focus on substance misuse intervention, as well as collegiate recovery programming. Baldwin has been recognized nationally by the Association of Recovery in Higher Education for her work with Tangipahoa Reshaping Attitudes for Community Change, as well as her work on campus with Lion Up Recovery, a collegiate recovery program that is the first of its kind in Louisiana and one that she helped to establish.