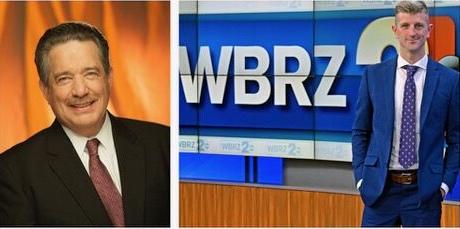 BATON ROUGE - There are exciting similarities to Rocky Daboval's first day at WBRZ and today: An industry on the cusp of change, a locally owned television station innovating and leading the future, and a lot of life to live in the years ahead. Only tomorrow won't be the same as the tomorrow in the late 1970s - Daboval, the station's general manager, will move into retirement.
The juggernaut broadcaster looks into his next career: A grandfather, full-time family man, and mentor without the workload of running a TV operation every day.
"I wish I was 20 years younger. This may be the best time to be in local TV," Daboval said as he announced his retirement from WBRZ after nearly fifty years at the station. It's a line he's used often with his closest colleagues over the last two years as he's looked beyond a global health crisis and uncertain political landscape, peering into the next generation of broadcasting, journalism, and business partnerships.
"I cannot imagine a better television station. Frankly, there is not one. There is not a station that cares as much about our community and what we are doing than the Manship family," Daboval said.
Daboval is part of a growing family of broadcasters: His dad was among the legacy group that built the foundation of New Orleans' WWL TV; His son is building the foundation of the future of TV sales at WBRZ.
In preparing for this story, Daboval made sure to opine "I don't want anything about awards, or this or that, I want to make sure it's clear, there is no place else like WBRZ and what we're doing here." But it should be noted, Daboval has helped usher in a new era of television in Baton Rouge, has won awards helped strengthen ratings, and cannot ride off into the sunset without endearing appreciation. He was the visionary behind WBRZ Plus, the station's massive, 24-hour entrance into local news and exclusive content which featured the first sports betting network brought to TV airwaves.
WBRZ is one of the last remaining locally owned television stations in the country. It is owned by the Manship family of Baton Rouge, who built the station in 1955.
"Change is an exciting opportunity for all of us. Rocky has led us through important moments – both at WBRZ and in our community. We've been lucky to have Rocky guide our industry and he's lucky to be able to now be able to spend more time with his family," Richard Manship, WBRZ and Manship Media President/CEO said.
Daboval will oversee the transition to a new station general manager over the next four months. Also Monday, WBRZ immediately appointed Trey Schmaltz as WBRZ General Manager to replace Daboval. Schmaltz, a Louisiana native, and 12-year station veteran has spent the last year-and-a-half as WBRZ's Director of News, overseeing the most amount of news in Baton Rouge and its award-winning journalists, including the WBRZ Investigative Unit guided by Chris Nakamoto.