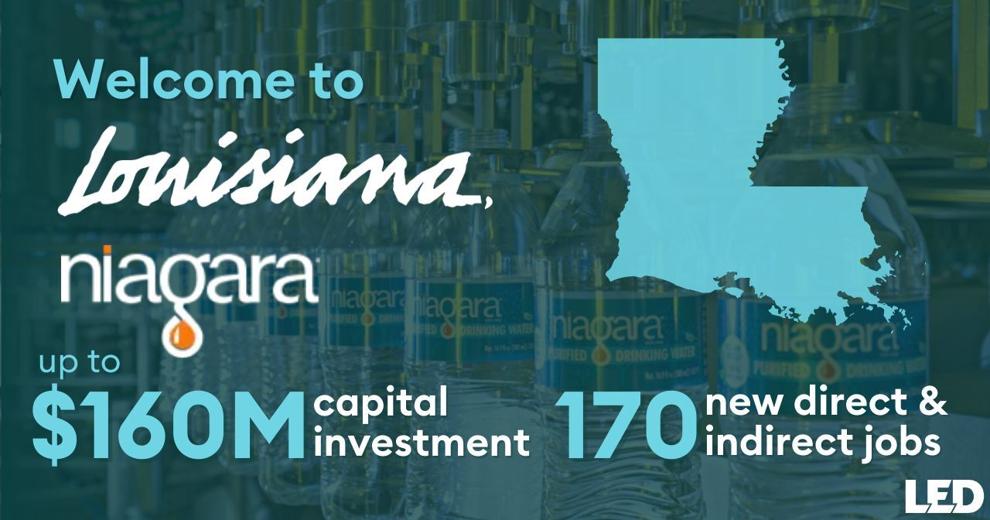 Niagara Bottling, one of the nation's leading beverage manufacturers, has announced it plans to invest up to $160 million to establish a state-of-the-art production facility near Hammond. The company will create 70 new direct jobs with an average annual salary of $55,000. Louisiana Economic Development estimates the project will result in an additional 100 new indirect jobs, for a total of 170 new jobs in the Southeast Region.
The new, highly automated facility will contain advanced equipment and technology that will increase production efficiency to allow the company to meet growing demand. Louisiana was chosen over competing states and the Tangipahoa Parish facility will be Niagara's first location in the state.
"Niagara's new production facility will help grow Louisiana's food and beverage industry while continuing to diversify and strengthen our thriving manufacturing sector," Gov. John Bel Edwards said. "Manufacturing jobs have a powerful ripple effect on our economy, so the 170 new job opportunities this project creates will benefit not only Tangipahoa Parish but the entire Southeast Region."
Headquartered in Diamond Bar, California, Niagara supplies some of the largest beverage brands, retailers, grocers and convenience stores in the U.S. with a variety of beverages, including sparkling, vitamin and flavored waters, teas, sports drinks, ready-to-drink coffee, protein drinks, non-dairy milk products and bottled water. The company operates more than 40 production facilities with over 7,000 employees worldwide.
"Niagara Bottling is grounded in principles that put strong business and community relationships first, and we look forward to deepening our connection with Tangipahoa Parish through the establishment of this facility," said Niagara Bottling Executive Vice President Brian Hess. "Louisiana has a rich beverage manufacturing history, and Tangipahoa Parish stood out as a highly attractive partner for this project thanks to a combination of location, logistical support and potential workforce."
The company expects to begin construction on the 500,000 square-foot facility in the second quarter of 2023.
"In Tangipahoa Parish we work hard to grow our advanced manufacturing industry," Tangipahoa Parish President Robby Miller said. "We know this project will enhance Tangipahoa's economic landscape and in turn, benefit everyone in this region. We thank Niagara Bottling Company for choosing Tangipahoa Parish to build their newest manufacturing and distribution site. The significant investment and job creation for our citizens will make a major impact on Tangipahoa, and we are extremely grateful they chose us."
To secure the project, the state of Louisiana offered Niagara a competitive incentive package featuring the comprehensive solutions of LED FastStart, the nation's No. 1 state workforce development program. The incentive package also includes a performance-based $750,000 award through the Economic Development Award Program to support site infrastructure improvements. In addition, the company is expected to participate in the Quality Jobs and Industrial Tax Exemption programs.
"Working with Niagara Bottling Company over the past several months has truly been a team effort," Tangipahoa Parish Executive Director of Economic Development Ginger Cangelosi said. "Every arm of Tangipahoa Parish government along with all of our ancillary services moved together to find the best solutions to land this project here. Niagara Bottling is a solid, well-established company that values quality, integrity, hard work and great customer service. We are proud and excited to welcome them to Tangipahoa Parish and look forward to continuing to support them long-term as they build and grow here."
"The growth of our region's food and beverage manufacturing sector continues with the expansion of Niagara into the market, and furthers a vision for the North Shore to evolve into a logistics and distribution hub," said Michael Hecht, President and CEO of Greater New Orleans, Inc. "This announcement follows an extensive multi-state search, where company leadership found Tangipahoa Parish to demonstrate a business case that couldn't be rivaled. Our region's workforce will benefit from these emerging career opportunities, and resulting advantages of increased commerce taking place in our backyards."
"We're incredibly excited that Niagara Bottling chose to invest in Louisiana," said Phillip May, president and CEO of Entergy Louisiana, which helped recruit the company to Tangipahoa Parish. "After having success working collaboratively with them and local, regional and state stakeholders during initial steps like site selection, we look forward to being a strong community partner every step of the way and helping power their operations in Tangipahoa Parish."