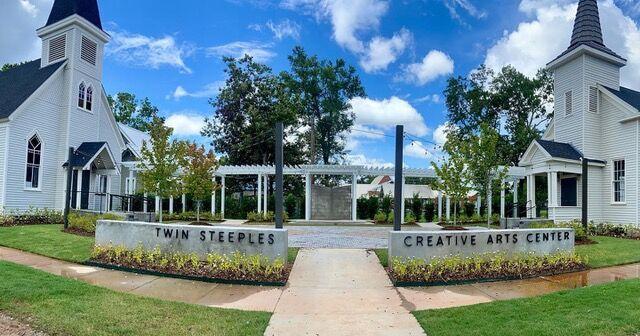 Ponchatoula, LA – Coming up at Twin Steeples in May 2023:
May exhibition: "May Art Mix" May 1-26. Featuring three artist, painters Krista Roche, Thomas Laurent and ceramic pottery by Duncan Jenkins Gallery. Krista Roche (from Baton Rogue) and Thomas Laurent (of New Orleans) are painters who are approaching abstraction through two different lenses, Duncan Jenkins Gallery (of Madisonville) are the ceramic creations of husband-and-wife artist duo Joshua Duncan and Sarah Megan Jenkins. The exhibit is open for public viewing from May 1 – May 26, 2023, Monday-Friday NOON – 5:00 PM; Saturday NOON – 2:00 PM
Opening Reception May 2nd 5:30pm-7pm with artist talk. *Free event
May 4th. 6pm-8pm. Open mic and performance by musician TJ Barends! Come join us 6pm-7pm for the open mic to share a song, poem, performance, dance, or a surprise with us, then enjoy the acoustic rock-melodies of Ponchatoula's very own of singer/songwriter TJ Barends. All ages are welcome to come and enjoy, snacks provided! *Free Event
May 30th 6pm-7pm. Group Critique Night, artists are invited to bring a piece they are working on or a finished piece they are looking for some feedback on. Each artist gets to present a work to the group and get some reactions and possible solution suggestions. *Free Event! All ages are welcome! You don't have to be an artist to attend, all art lovers are invited!
Class Announcement: Improv Class with Casey Saba. Learn improvisational comedy with lessons and games that focus on teamwork, cultivating mindfulness, exploring character development, scene conflict resolution and much more while making new friends and laughing a whole lot! Youth classes (12-16) and Adult classes (17+) available. Four 2.5hr classes that take place on Mondays in July, $200 all in cost. Register at twinsteeples.org or call 985-401-1475 for exact dates and info
To learn more or become a Twin Steeples member or patron, visit https://twinsteeples.org.
Follow Twin Steeples on Facebook and Instagram for updates.