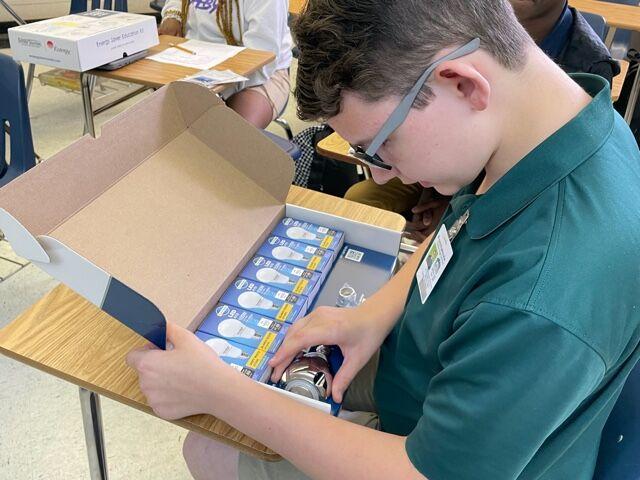 Officials from the Tangipahoa Parish School System and representatives from Entergy Solutions and Energy Wise recently joined students, teachers and staff at Ponchatoula Junior High School for an impactful learning experience centered on energy efficiency and real-world applications for saving money through reduced electricity use.
Tangipahoa Parish School Superintendent Melissa Stilley attended the unique educational workshop, which is offered to middle school students through the Entergy Solutions School Kit Program and Energy Wise. Entergy Solutions is Entergy Louisiana's energy efficiency program, and Energy Wise serves as the School Kit Program subcontractor. The program has provided energy efficiency lessons and at-home upgrade kits to students at nine schools throughout Tangipahoa Parish since 2018. The latest in-person learning event at Ponchatoula Junior High School distributed 400 Entergy Solutions Energy-Saver Education Kits, marking a total of 3,340 school kits distributed in Tangipahoa Parish schools to date.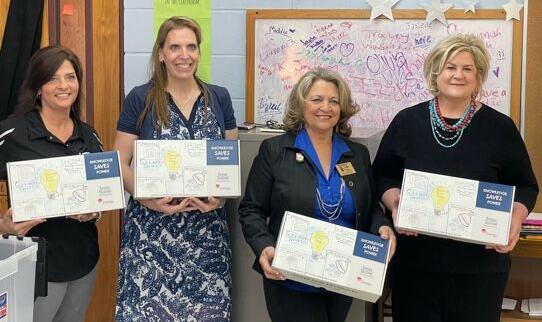 "I'm proud of the resiliency our school communities have shown in overcoming challenges presented by the COVID-19 pandemic and Hurricane Ida over the past couple of years," said Melissa Stilley, Tangipahoa Parish School superintendent. "Entergy Louisiana has provided vital resources and education to our students through the Entergy Solutions School Kit Program and worked diligently to continue serving our participating schools through difficult circumstances. The recent classes conducted at Ponchatoula Junior High were the fourth educational kit distribution for that particular school, and it was exciting to have the program back on campus to engage with our students in person."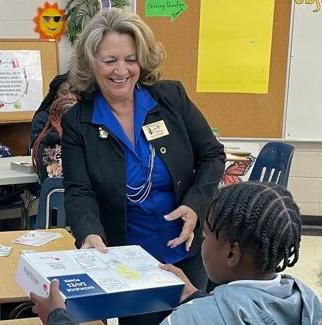 The Entergy Solutions School Kit Program works with local schools to enhance energy-efficiency learning with lesson plans focused on sources of energy and electricity, how electricity is created and ways that students can help their families save money by reducing electricity use. Participating students are provided with energy-efficiency kits to install in their homes with an adult's assistance. The Entergy Solutions Energy-Saver Education Kit includes LED light bulbs, water-saving showerheads, water-saving aerators, and a shower flow & faucet meter bag.
"Once these energy-efficient items are installed, students and their families can begin tracking their savings," said Heather LeBlanc, Entergy Louisiana, Regulatory Affairs. "The kits provide a great way to implement the program's energy efficiency lessons beyond the classroom and offer families a way to reduce their utility bills."
The program's energy efficiency education materials align with Louisiana Student Standards for Science. Energy Wise Executive Director Jamie Wine says the program offers educators a valuable resource to extend science-based learning.
"This program not only teaches students about electricity and ways to be an energy-efficient consumer, but also it provides tangible means for students and their families to implement energy-saving practices at home," Wine said.
The Entergy Solutions School Kit Program is available at no cost to participating schools or students. All middle-school classes at schools served by Entergy Louisiana are eligible to participate. Visit the Entergy Louisiana website to learn more about the school kits and education program. School administrators or teachers interested in participating in the Entergy Solutions School Kit Program can click here to request a visit at their school.