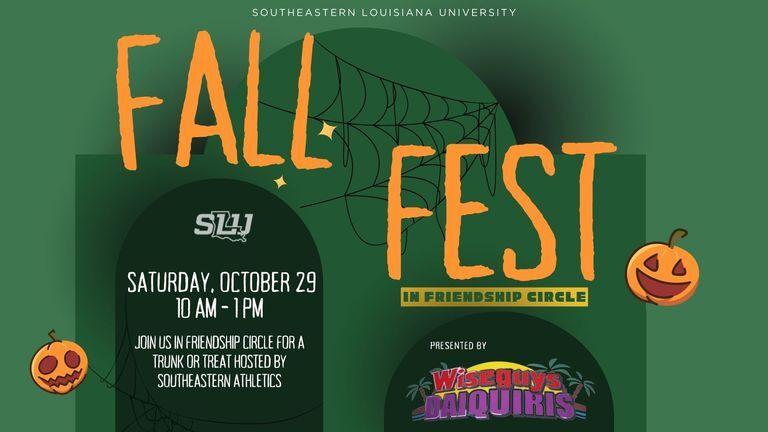 HAMMOND, LA – The Lion Athletics Association will host Fall Fest in Friendship Circle presented by Wiseguys Daiquiris Oct. 29.
The event is scheduled for 10 a.m. – 1 p.m. and will feature a Trunk-or-Treat, face painting, as well as a costume and trunk decorating contest. Captain's Tasty Treats and Cajun Flavors & BBQ will be present, as well as Roomie the Lion, spirit members and select Southeastern student-athletes.
Registration for a trunk space is free, though participants are required to provide their own candy for distribution as well as any décor for their trunk or table. Those interested in a trunk space can register at https://lionspots.com/app/eventview/c8557a72-5055-44a8-9ae6-c7837b7fbd22.
For more information, contact the LAA at laa@southeastern.edu or (985) 549-5091.
SOCIAL MEDIA
For more information on Southeastern Athletics, follow @LionUpAthletics on Twitter, like /SLUathletics on Facebook and subscribe to the SLUathletics YouTube channel.
CLEAR BAG POLICY
Southeastern Athletics has instituted a clear bag policy for all ticketed events, effective with the start of football season. For more information on the clear bag policy, visit www.LionSports.net/clear.