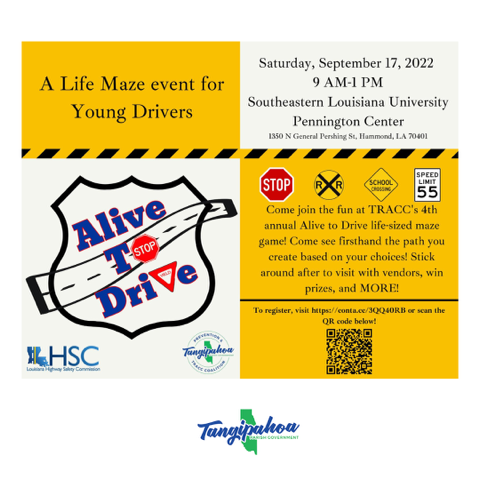 HAMMOND---Alive to Drive is a traffic safety event created by the Tangipahoa - Reshaping Attitudes for Community Change (TRACC) Coalition.
The TRACC Coalition's mission is to support community safety and promote wellness for all of Tangipahoa Parish citizens. This coalition is managed by Tangipahoa Parish Government's Office of Community Development. This event is co-sponsored by Southeastern Louisiana University's Office of Student Advocacy and Accountability. Alive to Drive is a life size maze where students do a walkthrough of real- life consequences of what happens when engaging in unsafe driving behaviors such as speeding, impairment, distraction/texting, and not wearing a seatbelt. This event is a collaborative effort with TRACC's numerous community partners. This event is happening on Saturday, September 17, 2022 from 9 AM – 1 PM at Southeastern's Pennington Student Activity Center, located at 1350 General Pershing Dr., Hammond La.
This event is FREE and open to anyone who would like to attend, though the focus is on reaching young drivers ages 15 – 24 years old. The Life Size Maze is constructed over 3 basketball courts and hosts an expo at the end of the maze, where students can garner information regarding healthy living and safe driving. Students are given a role-play narrative describing an unsafe driving scenario at the beginning of the maze. They then walk through different "rooms" where they learn about the consequences of unsafe driving such as getting arrested, possible medical intervention, court services, required treatment referral for substance abuse/dependence, community service work, career counseling and funeral services.
This event is partially funded by a grant the TRACC Coalition receives from the Louisiana Highway Safety Commission. We are currently in need of donations for door prizes and/or a small giveaway for our young driver participants.
If you or your organization would be interested in helping make this event a success, please contact Cali Sbisa at csbisa@tangipahoa.org, or call the Office of Community Development at (985) 542-7138. We appreciate your support!