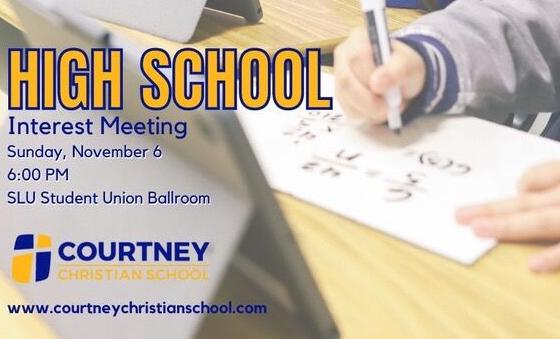 Courtney Christian School has announced plans to expand its existing facilities to accommodate up to 500 students in Pre-K3 through eighth grade in the next three years, as well as to host an upcoming high school interest meeting.
The school's "Raise the Roar" capital campaign seeks to raise $1.2 million to expand the school's gymnasium which was completed in 2021. The expansion will include additional court space including bleachers for home game spectators as well as three new enrichment classrooms which are imperative to accommodate the growing student body as the school expects to grow from nearly 420 to 500 students over the next three years. More information about the campaign can be found at www.courtneychristianschool.com/raisetheroar.
The high school interest meeting will be held Sunday, Nov. 6, at 6 p.m. in the SLU Student Union Ballroom to assess community interest as the school works toward a plan to launch a high school by August 2024. All community members in support of a new, faith-based high school option in the Hammond area are invited to attend this interest meeting.
"As Courtney Christian School continues to experience tremendous growth, we are moving forward with plans to expand in two ways: first, to further develop our existing campus and second, to move forward with plans for launching a high school of choice at a second location in our community," said Sue Courtney, Headmaster.
Currently, Courtney Christian School educates nearly 420 students in Pre-K3 through eighth grade at its campus off of Westin Oaks Drive in Hammond. Since it began in August 2015, the school has strategically improved its facilities to include an early childhood building, phase one of the gymnasium and a middle school building.
Courtney Christian School is committed to excellent education which includes a quality academic program, as well as imparting a Biblical worldview, developing Godly character and instilling the knowledge of our nation's Christian heritage. For more information, visit www.courtneychristianschool.com or call 985-393-0227.