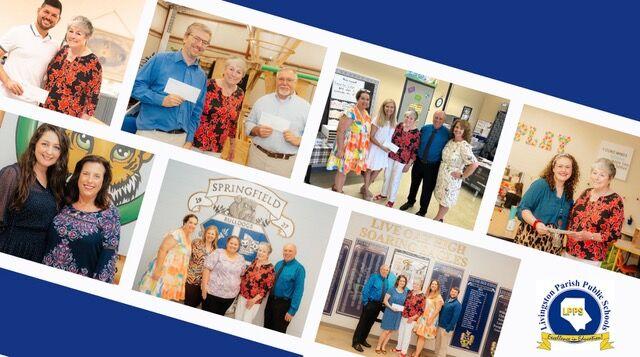 LIVINGSTON, La. – Eight Livingston Parish teachers have been awarded Deborah Rochelle Teacher Grants to fund instructional, research-based projects that provide direct instruction to local students.
The grant program, which was initiated in 1991, is managed by the Kelly Gene Cook, Sr., Charitable Foundation to benefit qualified teachers and professional staff in East Baton Rouge, Livingston, and St. Tammany parishes. The grant program is named for Rochelle, who is responsible for the grant's origination and organization. The grants are valued up to $5,000 each, and they are awarded directly to winning recipients.
The eight recipients and their projects include:
• Anthony Elliott, French Settlement Elementary, received $4,933 to support his "Coding for the Future" project;
• Sydney Brignac, Juban Parc Elementary, received $4,987 to further her "Integrating Technology in a Special Needs Classroom Through the Use of iPads;"
• Kay Simmons, Walker Elementary, received $4,933 for her project "Literacy Skills for English Language Learners;"
• Daniel Eiland, Denham Springs STEM & Robotics Center, received $4,864 to advance his "Design to Reality – Creating Precise Products from 3D Design" project;
• Danny Thomasson, Denham Springs STEM & Robotics Center, received $4,990 for his "Production Level 3D Printing" project;
• Autumn Bolin, Live Oak High School, received $4,700 for her "Erasable Mistakes" project;
• Bethany Arnold, Livingston Parish Literary & Technology Center, received $5,000 for "Inchy the Bookworm Vending Machine;" and
• Yvette Hill, Springfield High School, received $5,000 for her "SHS Robotic Launch" project.
"We are most appreciative of the Kelly Gene Cook, Sr. Foundation and those judging the Deborah Rochelle grant nominations to recognize the outstanding work that is being done by these outstanding Livingston Parish teachers," Superintendent Joe Murphy said.
"These monetary incentives certainly provide a motivation to our people to try new things and be creative in their instructional methods; but more importantly, these incentives ultimately benefit our students who advance in their knowledge and skills through these projects," he added.
Deborah Rochelle, the person for whom the grants are named, visited Livingston Parish Schools and presented checks to the individual teachers. She was joined in her visits by Katy Pacelli, executive director of the Kelly Gene Cook, Sr. Charitable Foundation.