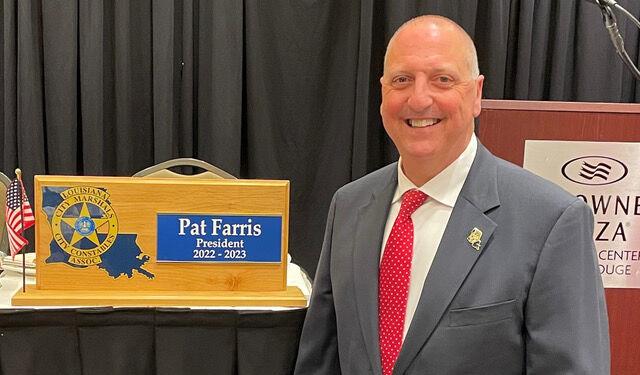 Denham Springs City Marshal and President of the Louisiana City Marshals and City Constables Association Joe Shumate, Jr. announced Seventh Ward Marshal Pat Farris has been elected as the 2022 – 2023 President of the Association.
"I have worked with Marshal Farris for the past seven years and he has served his district and this association with the utmost professionalism and commitment," said Shumate. "I know our association is in good hands with Marshal Farris leading us."
Marshal Farris was elected at the 60th Annual Training Conference held in Baton Rouge, May 5 – 7, 2022.
Each year the Association meets for specialized training for Marshals, City Constables and their deputies for topics that help their offices run more smoothly and efficiently. The annual meeting always ends with a pistol competition on the shooting range.
The Louisiana City Marshals Association was formed in 1962. Later it was changed to the Louisiana City Marshals and City Constables Association to promote a harmonious cooperation among all City Court Marshals and City Court Constables in the State of Louisiana.
Another goal of the association is the cultivation of fellowship among those having a common interest as the executive officers of the city courts.
The Association is also plays a large role in advocating for their members with the Louisiana Legislature for bills that affect their office.
"I am looking forward to continuing to work with the Marshals and City Constables across the State of Louisiana. It is a great honor to be elected to this position and I am ready to serve to make each of our offices better and more efficient," said Marshal Farris.