May is National Historic Preservation Month. The Hammond Downtown Development District (DDD) and The Hammond Historic District (HHD) have joined forces to celebrate Hammond's rich history through the Railroad Park History Exhibit project.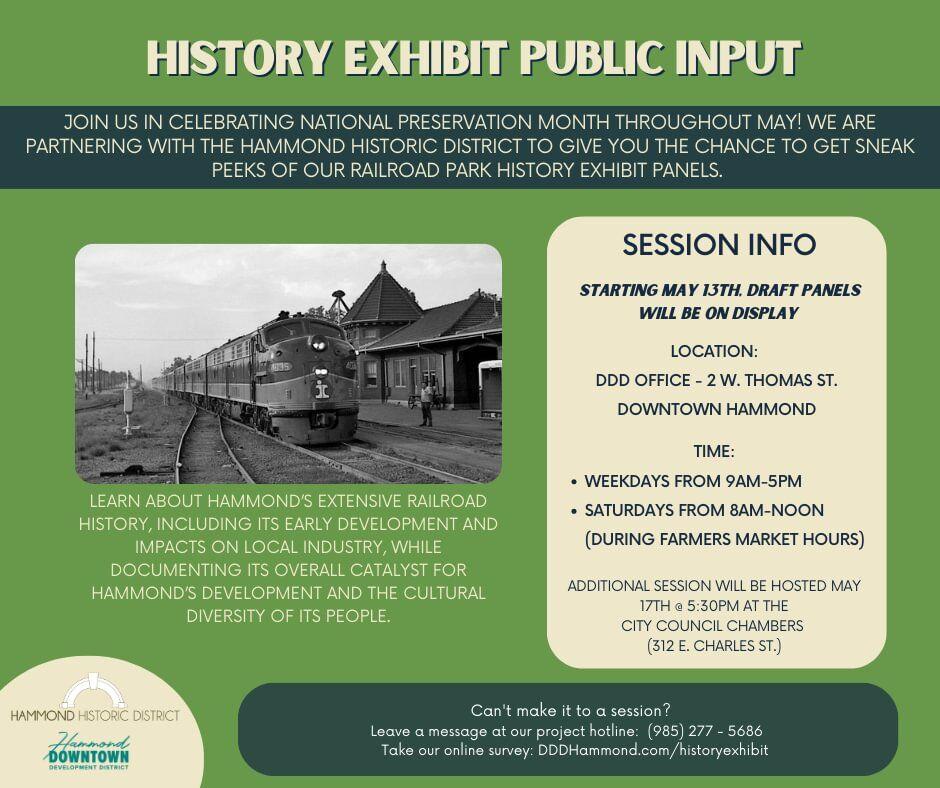 This exhibit will offer the public an opportunity to learn about Hammond's extensive railroad history, including its early development and impacts on local industry, while documenting its overall catalyst for Hammond's development and the cultural diversity of its people.
The DDD and HHD are hosting public input sessions for the Railroad Park History Exhibit project. Community members will have the chance to view drafts of the exhibit panels and historic photographs, and to read about topics related to Hammond's railroad history. The draft panels will be on display in the DDD office building located at 2 W. Thomas St. during regular office hours (9 a.m. to 5 p.m.) Monday through Friday and on Saturdays from 8 a.m. to noon (during the farmers market).
The public is encouraged to contribute to the narratives with stories and photos. They are invited to speak with project volunteers onsite, complete surveys at the DDD's website, or call the DDD's project hotline at 985-277-5686. We are seeking stories of the history of African American and other minority populations to document their contribution to Hammond's development.
The project received the 2022-2023 Historic Preservation Fund Grant Award by The Louisiana Division of Historic Preservation in the amount of $7,882. Additional project partners include the Southeastern Louisiana University Center for Southeast Louisiana Studies, Tangipahoa African American Heritage Museum and Veterans Archives, the City of Hammond, Railroad Park architect, Roy Dufreche, and others.
Upon project completion in Fall 2023, project partners will host a series of educational sessions, including a Railroad History Day. For more information and to follow along with the progress of the project, visit DDDHammond.com/historyexhibit.