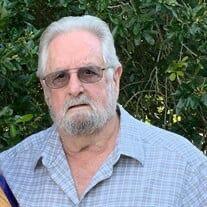 Valmond, age 81, passed away on Tuesday, August 2, 2022. He was a native of Pumpkin Center, LA and a resident of Denham Springs, LA. AV proudly served his country in the United States Army where he also served in Vietnam. After returning from Vietnam, he earned his pilot's license and developed a true passion for flying. He spent countless hours in the air and traveled every weekend with friends in their planes. AV dragged his family to every plane museum he could think of. He was a phenomenal cook and taught his children as much as he could. AV loved hosting cookouts, being surrounded by his family gave him the most joy. He absolutely adored his grandbabies and took the title of Paw Paw very seriously. AV was always full of laughs and jokes and never missed a moment to make his family smile. He truly was a remarkable man who left his family with wonderful memories. AV will be forever missed.
He is survived by his wife of 59 years, Carlotta Matheny Coates; daughter, Rachel C. Hooper (Jason); son, Caleb Coates (Rebecca); sisters, Shirley Holder and Billie Smith; grandchildren, Dominic Coates, Brittany Jones, Aubree, Kirsten, and Sadie Coates, Haleigh and Makayla Hooper; and numerous nieces and nephews.
AV is preceded in death by his parents, Arthur Ellis and Evelyn Coates; and son, Ethan Coates.
Relatives and friends of the family are invited to attend a visitation from the Chapel of Brandon G. Thompson Funeral Home, 7738 Florida Blvd, Denham Springs, LA. on Sunday, August 7, 2022 from 6:00 p.m. until 9:00 p.m. Visitation will continue on Monday, August 8, 2022 at Live Oak Methodist Church from 8:00 a.m. until the funeral service at 10:00 a.m. Interment will follow in the church cemetery.