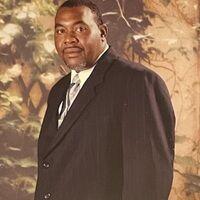 Dennis Wayne Walker entered into this world on February 20, 1962 he was the youngest child of Erma Walker Carson and the late Nathan Walker Jr. Dennis peaceful departed this life on November 26, 2022 at his residents.
Dennis was baptized at an early age under the leadership of Dr. Willard Vernon. Dennis was an active member of the church, which he served on several youth ministries but he loves the youth choir as well as being the youth Superintendent of the Sunday school under Deacon Jake R. James.
Upon graduating from Mt. Hermon High School, he enrolled in Southern University of Baton Rouge, LA where he majored in Business Agriculture. He later moves to Arlington Texas.
Dennis became the proud owner of his on-trucking company Walker Trucking. Later in life he worked with several local and cross county trucking companies. Dennis enjoyed fishing where he completes in several tournament in the Ft. Worth area. He loves playing & watching basketball and football. Playing with his dog (Pee-Wee) and carrying him where ever he went.
He leaves to cherish his memories his beloved mother, Erma D. Carson; his son, Andre D. Walker of Fort Worth, TX; one brother, Nathan (Barbara) Walker of Mt. Hermon, LA; one step-brother, Mark Carson of Madera CA; two sisters, Sandra & Francis Walker of Memphis, TN; one step-sister, Cheryl (William) Tyler of Terre Haute, IN; one niece, Dajenelle Walker; 2 nephews, Blake Walker and Marquis Clark; six uncles, James (Clodean) Brumfield of Mt. Hermon LA, Charles (Lena) Brumfield of Kentwood LA, Quincy Walker of Kentwood LA, Oliver Earl Brumfield of Mt. Hermon and Gregory Brumfield of New Orleans LA; four aunts, Audrey Brumfield Taylor of Beaumont Tx, Irena James, Wyounell Carter and Mattie Brumfield of Kentwood LA; and a host of cousins and friends.
He was preceded in death his father, Nathan Walker, Jr.; step-father, Charles Carson; and grandparents, Hermon & Mae Ella Brumfield; Nathan H. Walker & Francis Brumfield Walker; one-step brother, Preston Carson.
A viewing will be held on Saturday, December 3, 2022 from 11:00AM - 1:00PM followed by funeral service at Mt. Olive Missionary Baptist Church with Rev. Kenneth C. Saulsberry, Sr. - Pastor Officiating. Interment - Mt. Olive Church Cemetery. Crain and Sons Funeral Home, Franklinton, LA are in charge of arrangements. Please sign guestbook at www.crainandsons.com.