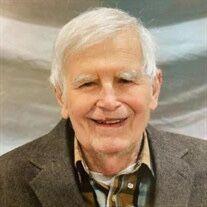 Father Harry Steadman Tipton, at the age of 85, entered eternal rest peacefully early Saturday Morning, September 10, 2022 at the Windsor Senior Living Center in Mandeville, Louisiana. He was born in Knoxville, Tennessee on August 10, 1937 to Harry Britt Tipton and Henrietta Marcelle Steadman Tipton.
He is survived by his former wife of 32 years, Maureen May Maxwell Tipton, his five children: Harry Maxwell Tipton (Julie), Edith Marcelle Tipton Hermes (Peter), Heather Maureen Tipton Lindquist (Benjamin), Andrew Bartholomew Steadman Tipton (Melia), Marilyn Elizabeth Tipton Osborne (Jeffrey); 15 grandchildren: Anya Maureen Tipton, Alyssa Ping Tipton, Hannah Ruth Lindquist Knox (Julian), Philip Benjamin Lindquist (Claire), Nathanael Lloyd Lindquist (Abigail), Grace Elisabeth Lindquist, Joseph Robert Lindquist, Eric Nicholas Tipton, Henry Domingo Tipton, Andrew William Osborne, Maria Guadeloupe Osborne, Joshua Alexander Ball, James Olivier Osborne, Vivian Lourdes Osborne, and Lana Marcelle Osborne; one great-grandchild: Marta Elise Knox; his two brothers, Ronald Britt Tipton (Berit) and Richard Mercer Tipton (Sally); and his niece, Jennifer Leigh Tipton Kropog (Ryan).
Father Harry is preceded in death by his parents, Harry Britt and Henrietta Marcelle Tipton.
Father Harry spent his early years living in Knoxville, TN. He would fondly recall going to the radio station with his mother to watch live music being played for the radio broadcast, which contributed to his lifelong appreciation of bluegrass music and love for the Dobro guitar. His Father's role as manager of J.C. Penny took his family to Montgomery, AL; West Palm Beach, FL, and Hammond, LA. During Father Harry's second grade school year he lived in Batesburg, SC with his Aunt Myra while his mother, fondly known as "Retta", was ill. In 1951, at the tender age of thirteen, Father Harry laid his mother to rest; his younger brothers were only eight and six years old. During this difficult time, the kindness and stewardship of others inspired him to join the church. Father Harry graduated from St. Paul's High School in Covington, LA, Class of 1956. He enrolled in Louisiana State University, was a member of Sigma Chi fraternity, and earned a Bachelor's degree. After graduation he met Maureen May Maxwell while attending Grace Episcopal Church in New Orleans. They married on September 1, 1962 and started their family soon thereafter. He attended Seabury-Western Theological Seminary in Evanston, IL, earned his Master of Divinity degree and was ordained into the priesthood on May 25, 1966–an achievement he was very proud of. After seminary, Father Harry was the priest in charge at Holy Comforter in Lecompte, LA and Trinity Episcopal Church in Cheneyville, LA. He joined the United States Air Force as an officer and chaplain. He served 21 years and retired as a Major–receiving the Meritorious Service Medal, Air Force Commendation Medal with three Oak leaf clusters, Air Force Outstanding Unit Award, National Defense Service Medal, Armed Forces Expeditionary Medal, Air Force Overseas Short Tour Ribbon, and the Air Force Overseas Long Tour Ribbon with one Oak. His Air Force career brought him and his family many places: San Antonio, TX; Osan, Korea; Hampton, VA; Adana, Turkey; Biloxi, MS; Anchorage, AK; and Niceville, FL. After retiring from the Air Force, Father Harry served as Rector for the Church of the Epiphany in Crestview, FL. He was passionate about prison ministry and later served as a chaplain in the Florida state prison system for 10 years, in Calhoun and Walton Counties.
Father Harry had an unwavering love for his family and was compassionate and caring to all. He had the gift of making everyone feel special and seen. He had a great sense of humor and appreciated making others smile. He enjoyed camping, fishing, bluegrass music, genealogy, traveling the world with his family, and cherished large family celebrations. A lifelong learner, Father Harry was a conversationalist, deep thinker, and theologian who held C.S. Lewis in high regard. He hosted theology classes up to his final days, with his favorite saying being "Ain't Jesus Good!" Harry was unique and irreplaceable, well respected and liked, and will be deeply and dearly missed by all who knew and loved him.
In lieu of flowers kindly consider, memorial contributions in memory of: The Reverend Harry Steadman Tipton to: Church of the Epiphany 424 Garden Street, Crestview, FL 32536 or Kairos Prison Ministry International www.kairosprisonministry.org
Relatives and friends are invited to attend the funeral at St. Michael's Episcopal Church, 4499 Sharp Road, Mandeville, Louisiana 70448 on Friday, September 23, 2022 at 10:30 AM with visitation beginning at 9:30 AM until service time. Interment will follow the service in Southeast Louisiana Veterans Cemetery at 34888 Grantham College Drive, Slidell, Louisiana 70460.
E.J. Fielding Funeral Home locally owned and operated, (985) 892-9222 has been entrusted with funeral arrangements.
The Tipton family invites you to share thoughts, fondest memories, and condolences online at E. J. Fielding Funeral Home Guest Book at www.ejfieldingfh.com.