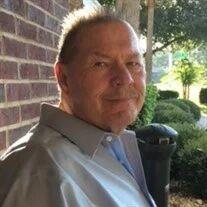 Tommy, age 72, passed away on Saturday, May 20, 2023 in his home surrounded by his loving family. He loved traveling to the annual car show with his entire family. Tommy always showed his love and kindness, he would boil seafood for his girls even though he didn't eat it and he always wanted to be the first to say, "I Love You." He adored his family, which meant the world to him. Tommy is loved tremendously by his wife, daughters, and family, he will be forever missed. This isn't goodbye, only until we see each other again.
Tommy is survived by his loving wife, Karen Owens Knight; daughters, Kelly Knight and Laurie Knight (Michael); sister, Faye Branch; brothers, Gary Knight (Debbie), Jimmy Knight (Shannon); along with numerous nieces and nephews.
Tommy is preceded in death by his parents, Daniel and Betty Knight; brother-in-law, James Branch; and niece, Terry Jones.
The family will have a small private in home gathering to celebrate his life.