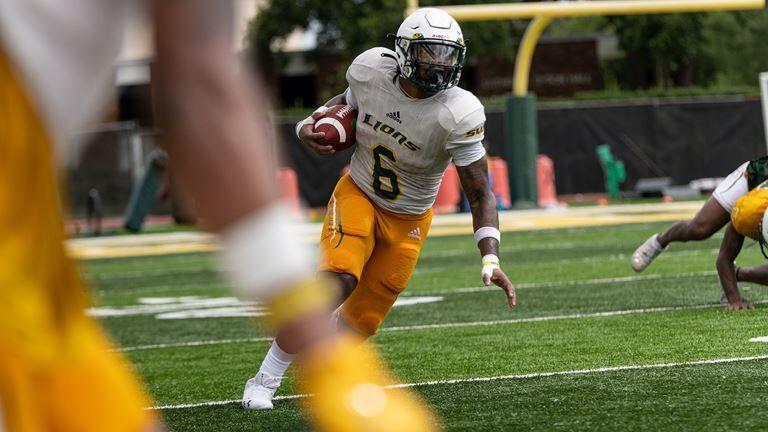 HAMMOND, La. – With a wealth of talent in the backfield, the No. 16/17 Southeastern Louisiana University football team has high hopes for its rushing attack in 2022.
All-Southland performer Taron Jones is the top returning running back for the Lions, while Jessie Britt, Jahmon McClendon and Joseph Wilson all return. Newcomers in the running back room include Carlos Washington Jr., Derrick "Rodeo" Graham Jr. and Johnathan Vaughn.
"This is a deeper, more explosive group overall than we've had in the past," fifth-year Southeastern head coach Frank Scelfo said. "Running back is a position where you need multiple guys you can rely on because of the physical nature of the position and we have that right now. This is the most complete group of running backs we've had since I've been here in terms of guys we can count on in all facets – rushing, receiving, blocking and pass protection."
Jones is back for the Lions and is coming off his most productive season in Hammond. The Mandeville, Louisiana native rushed for six touchdowns last fall, while also catching 44 passes and a pair of scores.
"Taron's been here with us since I came to Southeastern and has been a steady guy for us," Scelfo commented. "He knows the offense and doesn't make any mental mistakes. It's been great to watch him grow as his career has progressed."
Britt has made great strides heading into his final season in Hammond. The Lake Alfred, Florida product rushed for two touchdowns in his debut campaign at SLU last fall.
"Jessie has put in the work to get himself in better physical condition and that's made all the difference," Scelfo said. "He had a great summer and he's showing us what he can do as a runner and a receiver now that he's in better shape. Jessie also does a nice job in protection and has a great knowledge of the offense."
Washington Jr., who comes to Hammond as a graduate transfer out of New Hampshire, rushed for 10 touchdowns and 1,760 yards in his time at UNH. He and Graham, an all-state performer at University High School have impressed Scelfo during camp.
"Carlos brings a lot of experience, talent and production to our program," Scelfo said. "Rodeo Graham was a highly-recruited player out of high school and it was warranted. He's got good size, speed and vision and has a bright future for us."
SLU will practice Monday through Thursday at 3:45 p.m. and Friday and Saturday at 9 a.m. until the week of the Sept. 3 season opener at UL Lafayette.
Southeastern opens the 2022 season at the Ragin' Cajuns in a 6 p.m. contest. The home opener is set for Sept. 17 versus Central Connecticut State.
Southeastern Football Preseason Practice Schedule
Aug. 19 – 9 a.m.
Aug. 20 – 9 a.m.
Aug. 22 – 3:45 p.m.
Aug. 23 – 3:45 p.m.
Aug. 24 – 3:45 p.m.
Aug. 25 – 3:45 p.m.
Aug. 26 – 9 a.m.
Aug. 27 – 9 a.m.
TICKETS
For ticket information, contact the Southeastern Athletics Ticket Office at (985) 549-5466 or visit www.LionSports.net. Southeastern will continue offering mobile ticketing as the primary source for securing tickets for the 2022-23 season. All tickets will be available via e-mail or text message in a PDF format for fans to download on their phone or print at home. Tickets can also be downloaded to Apple Wallet.
SOCIAL MEDIA
For more information on Southeastern Football, follow @LionUpFootball and @Coach_Scelfo on Twitter, like /SLUathletics on Facebook and subscribe to the SLUathletics YouTube channel.
TOUCHDOWN CLUB/S CLUB
Fans interested in becoming active supporters of the football program are encouraged to join the Touchdown Club. Lion football alums are encouraged to join the exclusive S Club, which is restricted to Southeastern athletic letter winners.
All membership fees and donations to both the Touchdown Club and S Club (football) are available for the exclusive use of the Southeastern football program. Membership information is available by contacting the Lion Athletics Association at laa@southeastern.edu or (985) 549-5091 or visiting www.LionUp.com.
CLEAR BAG POLICY
Southeastern Athletics instituted a clear bag policy for all ticketed events, effective with the start of the 2018 football season. For more information on the clear bag policy, visit www.LionSports.net/clear.