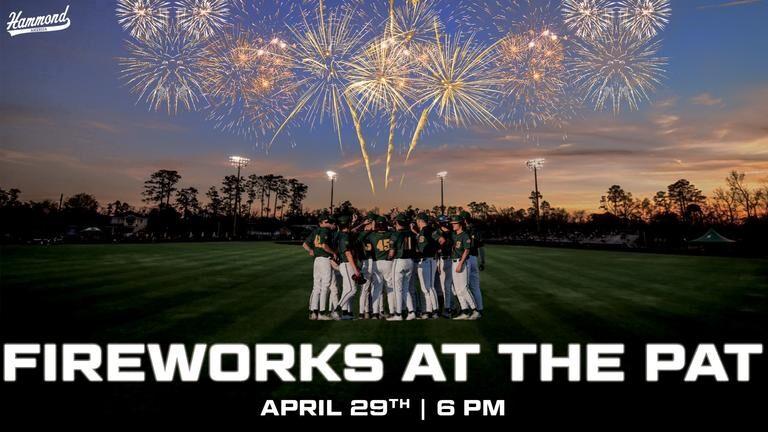 HAMMOND, La. – Discounted general admission tickets for the series opener highlights a Southland Conference baseball series against Lamar this weekend at Pat Kenelly Diamond at Alumni Field on the campus of Southeastern Louisiana University.
Games between Southeastern (19-18, 4-8 SLC) and the Cardinals (22-18, 6-9 SLC) are scheduled for 6 p.m. Friday, noon on Saturday and 1 p.m. Sunday. All three games are slated for ESPN+. Live stats will be available online at www.LionSports.net and in the Lions Gameday Experience app. Fans can also receive in-game updates on Twitter by following the @LionUpBaseball account.
General Admission tickets are just $5 for Friday's series opener. Fans can play Baseball Bingo at Saturday's game by picking up a card at the marketing table. The first three completed bingo cards go home as winners.
The series finale is another Military Sunday game with all active duty military personnel and veterans receiving free admission (must show Military ID at the ticket window).
SLU will send right-hander Will Kinzeler (4-1, 2.91) to the mound in the series opener. He will match up against Cardinal left-hander Jacob Ellis (3-2, 4.22).
Andrew Landry (2-5, 4.05), a junior right-hander from Slidell, Louisiana, draws the Saturday start for the Lions opposite Lamar southpaw Hunter Hesseltine (2-1, 3.71).
The Cardinals have not announced a starting pitcher for the finale. Southeastern will send out right-hander Brennan Stuprich (3-3, 5.60) to finish out the series.
SLU (19-18) is led offensively by Tyler Finke (.319), Shea Thomas (.290), Jake Killingsworth (.271) and Champ Artigues (.265). Finke also leads the team in extra-base hits (14) and the conference in stolen bases (26). Thomas has driven in a team-high 37 runs.
The Lions last faced Jackson State ten days ago, defeating the Tigers, 14-4, in non-conference action at Pat Kenelly Diamond at Alumni Field. Lamar defeated Houston, 4-2, Tuesday after dropping two of three in a conference series against Texas A&M-Corpus Christi.
River Orsak (.371), Tanner Wilson (.315) and Ben MacNaughton (.313) are the Cardinals' leading hitters. Ryan Snell paces the team with 40 RBIs and is the Southland leader with 13 home runs. MacNaughton ranks second in the conference with 22 stolen bases.
UP NEXT
Southeastern wraps up a nine-game homestand Tuesday, hosting No. 1-ranked LSU at Pat Kenelly Diamond at Alumni Field. First pitch is slated for 6:30 p.m. and will be carried on ESPN+.
TICKET & PARKING INFORMATION
Single-game tickets are now on sale. Fans are encouraged to purchase tickets in advance to minimize ticket lines on game days. Southeastern students are encouraged to contact the ticket office prior to the game to reserve theirs in advance.
General admission tickets for most games are $9 for adults and $6 for youth (ages 3-12). Southeastern students, with a university ID, and children under age 2 are admitted for free. Gameday parking is $5 per day for standard vehicles and $25 for RVs.
Tickets can be purchased online at www.LionSports.net/Tickets or by contacting the Southeastern Athletics Ticket Office at (985) 549-5466. Office hours are 9 a.m. to 4 p.m. Monday-Thursday and 8 a.m. to 12 p.m. on Fridays. The ticket booth at Pat Kenelly Diamond at Alumni Field opens exactly one hour prior to the scheduled first pitch.
Southeastern uses mobile ticketing as the primary method for distributing tickets purchased online. Tickets will be available via text message or email in a PDF format for fans to download on their phone or print at home. Tickets can also be downloaded to Apple Wallet.
CLEAR BAG POLICY
Southeastern Athletics enforces a clear bag policy for all ticketed events. The policy mirrors the safety precautions required for entrance to professional and collegiate sporting venues throughout the country. For more information on the clear bag policy, visit www.LionSports.net/Clear.
LIONS GAMEDAY EXPERIENCE APP
The Lions Gameday Experience app puts audio, stats, video, social media and more in the hands of fans. Those in attendance can also check in to earn reward points redeemable for Southeastern-related prizes. Available for both Android and iOS devices, it can be downloaded from the App Store and Google Play or by following the link www.LionSports.net/App.
DIAMOND CLUB / S CLUB
Fans interested in becoming active supporters of the baseball program are encouraged to join the Diamond Club. Lion baseball alums are encouraged to join the exclusive S Club, which is restricted to Southeastern athletic letter winners.
All membership fees and donations to both the Diamond Club and S Club (baseball) are available for the exclusive use of the Southeastern baseball program. Membership information is available by contacting the Lion Athletics Association at laa@southeastern.edu or (985) 549-5091 or by visiting www.LionUp.com.
SOCIAL MEDIA
For more information on Lions Baseball, follow @LionUpBaseball or @MattRiser17 on Twitter, @LionUpBaseball on Instagram and Facebook, and subscribe to the SLUathletics YouTube channel.