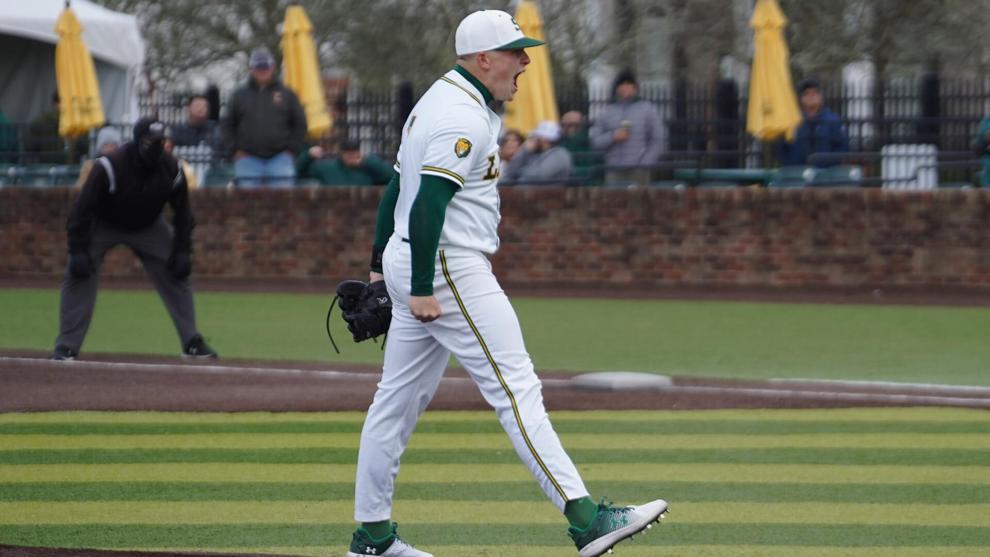 SLU Opens Southland Conference Play at Texas A&M-Corpus Christi
HAMMOND, La. – The Southeastern Louisiana University baseball team, the defending Southland Conference Tournament champions, open conference play this weekend at Texas A&M-Corpus Christi. Game times are scheduled for 6 p.m. Friday, 2 p.m. Saturday and 1 p.m. Sunday at Chapman Field in Corpus Christi, Texas.
Southeastern (12-9, 0-0 SLC) split a pair of games against the Islanders (11-11, 0-0 SLC) in the tournament's bracket round last season after taking two of three games during the regular-season series.
All three games will be carried on ESPN+. Live stats will be available online at www.LionSports.net and in the Lions Gameday Experience app. Fans can also receive in-game updates on Twitter by following the @LionUpBaseball account.
SLU will send right-hander Brennan Stuprich (1-2, 4.78) to the mound in the series opener. He will match up against Islander right-hander Hayden Thomas (3-2, 6.65).
Junior right-hander Will Kinzeler (4-0, 2.15) draws the starting assignment Saturday for the Lions while A&M- Corpus Christi will counter with right-hander Colin Purcell (2-0, 2.81).
Sunday's pitching matchup features SLU junior right-hander Andrew Landry (2-2, 3.54) and Islander left- hander Zach Garcia (1-2, 7.83).
The Lions lead the nation in HBPs (73) and rank seventh in stolen bases (64).
Southeastern's offense is led by Tyler Finke (.313), Champ Artigues (.305), Shea Thomas (.304) and Jake Killingsworth (.294). Rhett Rosevear ranks second in the nation in HBPs (16) while Finke ranks second nationally in stolen bases (20).
The Islanders rank seventh nationally in triples (17). Brendan Ryan (.396), Chance Reisdorph (.393), Jose Israel Enriquez (.328) and Christian Smith-Johnson (.328) are A&M-Corpus Christi's leading hitters. Ryan also leads the squad in runs scored (26), triples (7), RBIs (22) and stolen bases (11).
UP NEXT
Southeastern wraps up its five-game road trip with a non-conference game Tuesday at 6:30 p.m. against South Alabama at Stanky Field in Mobile, Alabama. The matchup is the first of two this season against the Jaguars. SLU has won three of the last four games in the all-time series.
LIONS GAMEDAY EXPERIENCE APP
The Lions Gameday Experience app puts audio, stats, video, social media and more in the hands of fans. Those in attendance can also check in to earn reward points redeemable for Southeastern-related prizes. Available for both Android and iOS devices, it can be downloaded from the App Store and Google Play or by following the link www.LionSports.net/App.
DIAMOND CLUB / S CLUB
Fans interested in becoming active supporters of the baseball program are encouraged to join the Diamond Club. Lion baseball alums are encouraged to join the exclusive S Club, which is restricted to Southeastern athletic letter winners.
All membership fees and donations to both the Diamond Club and S Club (baseball) are available for the exclusive use of the Southeastern baseball program. Membership information is available by contacting the Lion Athletics Association at laa@southeastern.edu or (985) 549-5091 or by visiting www.LionUp.com.
SOCIAL MEDIA
For more information on Lions Baseball, follow @LionUpBaseball or @MattRiser17 on Twitter, @LionUpBaseball on Instagram and Facebook, and subscribe to the SLUathletics YouTube channel.