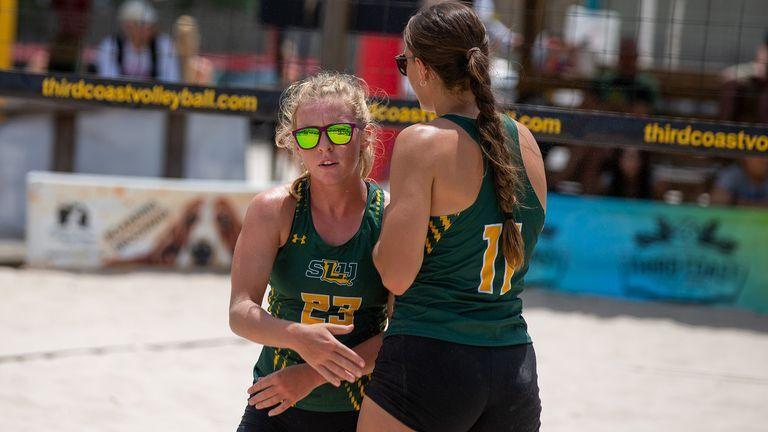 HAMMOND, LA – Southeastern Louisiana University Beach Volleyball duo Jolie Hidalgo and Meagan Scuderi continue their fall season this weekend, representing the Lady Lions in the prestigious AVCA Fall Beach Chamionships, which kicks off Friday in Huntsville, Ala.
"I'm extremely proud of the work that Meagan and Jolie have put in over the last three years to earn the right to be named as one of the top 64 pairs in the country," said SLU head beach volleyball coach Jeremy White. "This opportunity will undoubtedly have a huge impact on Jo and Meagan, but I believe it will also have a grand effect on our entire team in the form of motivation to join these two in this honor in the future."
The American Volleyball Coaches Association (AVCA) Fall Beach Championships brings 64 of the top duos in the nation to Huntsville, Ala. for a special tournament event as teams all across the country prepare for their spring seasons. The tournament runs November 4th -6th.
There they will see a number of teams from some of the top programs – including teams like LSU, Arizona State, UCLA, California, and Florida State. They will also see some familiar faces as conference members Houston Christian, Texas A&M-Corpus, and UNO will also be at this inaugural event.
Hidalgo and Scuderi went 21-11 on the sand last season, including a 14-10 record on the number one court. They went 7-1 when they were assigned to court number two a season ago.
The event opens tomorrow, Nov. 4th, at the John Hunt Park Sand Volleyball Complex.
DIGGIN' IT CLUB / S CLUB
Fans interested in becoming active supporters of the Southeastern volleyball program are encouraged to join the Diggin' It Club. Lion volleyball alums are encouraged to join the exclusive S Club, which is restricted to Southeastern athletic letter winners.
All membership fees and donations to both the Diggin' It Club and S Club (volleyball) are available for the exclusive use of the Southeastern volleyball program. Membership information is available by contacting the Lion Athletics Association at laa@southeastern.edu or (985) 549-5091 or visiting www.LionUp.com.
SOCIAL MEDIA
For more information on Lady Lions Beach Volleyball, follow @LionUpBeach or @JWhiteSLU on Twitter, @LionUpBeach on Instagram, like /SLUathletics on Facebook and subscribe to the SLUathletics YouTube channel.