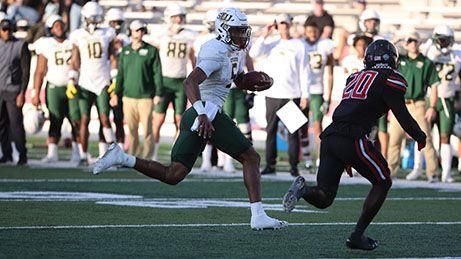 HAMMOND, LA – The No. 25 Southeastern Louisiana University football team returns home to host Southland Conference leader Northwestern State on Senior Day Saturday at 4 p.m. in Strawberry Stadium.
Southeastern (6-3, 3-1 SLC) can move into a share of the conference lead if it can hand the visiting Demons (4-5, 4-0 SLC) their first SLC loss of 2022. Saturday's game will be televised on ESPN3 and can be heard on the Southeastern Sports Radio Network (Kajun 107.1 FM, The Highway 104.7 FM, The Boss 103.7 FM/1400 AM).
Approximately 30 minutes before the game, the Lion senior class of Ferlando Jordan, Anthony Spurlock, Brandon Barbee, Cephus Johnson III, Nick Kovacs, Terrell Carter, Donniel Ward-Magee, Jessie Britt, Taron Jones, Carlos Washington Jr., Heath Stephen II, Tyree Rhodes and CJ Turner will honored in a Senior Day ceremony.
Southeastern picked up its third straight road win last Saturday with a 47-31 victory over Lamar, as the Lions racked up 527 yards of total offense on the way to clinching their fourth straight winning season - the program's longest run of above .500 seasons since a six-year streak from 1976-81.
Maurice Massey was the offensive standout for SLU in the win in Beaumont, as the St. Louis, Missouri native hauled in 10 passes for 150 yards and two touchdowns.
Johnson III (1,038 passing yards, 10 TD, 4 INT) and Eli Sawyer (1,195 passing yards, 7 TD, 1 INT) share quarterbacking duties, leading a Southeastern offense that is averaging 34.3 points and 426.6 yards per game.
Gage Larvadain (33 catches, 426 yards, 2 TD), Massey (25-352-4 TD) and Turner (22-378-4 TD) have been the top targets in the passing game for the Lions. Washington Jr. paces the SLU ground attack with 541 rushing yards and 10 touchdowns.
Jack Henderson, Anthony Britton Jr. and Herman Christophe each had eight tackles apiece in the victory over the Cardinals. Henderson added a sack and forced a fumble that teammate Tyrik Mitchell recovered, while Zy Alexander recorded an interception.
Donte' Daniels (65 tackles), Christophe (62), Britton Jr. (56), Henderson (54) and Ward-Magee (46) are the top five tacklers for a SLU defense that is yielding 24.9 points and 405.0 yards per contest. Daniels and Arlen Williams share the team lead with 5.5 tackles for loss apiece, while nine different Lions have intercepted apiece.
Riley Callaghan made the two longest field goals of his young career (47 and 44 yards) in Saturday's win, while Larvadain averaged 44.5 yards per kickoff return with a long of 75 yards on the way being named SLC Special Teams Player of the Week.
Callaghan is 9-for-11 on field goals in his first season as the starting placekicker, while making 24-of-25 PAT tries. Austin Dunlap continues to rank among the national leaders (7th) with a 44.4 punting average, as does Darius Lewis, who is averaging 12.1 yards per punt return (8th).
Northwestern State enters the penultimate game of the regular season alone atop the Southland Conference standings. The Demons remained unblemished in league play with a 41-14 road win at Texas A&M-Commerce, scoring the game's final 27 points.
Zachary Clement (2,151 passing yards, 17 TD, 10 INT) has handled the majority of the work under center for a NSU offense that is averaging 24.8 points and 404.6 yards per contest. Clement's top targets are Zach Patterson (70 catches, 617 yards, 5 TD) and Javon Antonio (54-620-6 TD), while Kenneth Lacy leads the Demons with 376 rushing yards and four touchdowns.
Northwestern State is allowing 36.4 points and 439.1 yards per contest heading into Saturday's matchup. Jared Pedraza paces NSU with 63 tackles and 10 tackles for loss.
Southeastern leads the all-time series with the Demons, 37-29. The Lions have won the last 11 meetings, including a pair of victories last fall.
SLU will close out the regular season Thursday, traveling to Nicholls for a 6 p.m. Southland matchup in Thibodaux. The 2022 version of the River Bell Classic will be televised on ESPN+ and can be heard on the Southeastern Sports Radio Network (Kajun 107.1 FM, The Highway 104.7 FM, The Boss 103.7 FM/1400 AM).
TICKETS
For ticket information, contact the Southeastern Athletics Ticket Office at (985) 549-5466 or visit www.LionSports.net. Southeastern will continue offering mobile ticketing as the primary source for securing tickets for the 2022-23 season. All tickets will be available via e-mail or text message in a PDF format for fans to download on their phone or print at home. Tickets can also be downloaded to Apple Wallet.
SOCIAL MEDIA
For more information on Southeastern Football, follow @LionUpFootball and @Coach_Scelfo on Twitter, like /SLUathletics on Facebook and subscribe to the SLUathletics YouTube channel.
TOUCHDOWN CLUB/S CLUB
Fans interested in becoming active supporters of the football program are encouraged to join the Touchdown Club. Lion football alums are encouraged to join the exclusive S Club, which is restricted to Southeastern athletic letter winners.
All membership fees and donations to both the Touchdown Club and S Club (football) are available for the exclusive use of the Southeastern football program. Membership information is available by contacting the Lion Athletics Association at laa@southeastern.edu or (985) 549-5091 or visiting www.LionUp.com.
CLEAR BAG POLICY
Southeastern Athletics instituted a clear bag policy for all ticketed events, effective with the start of the 2018 football season. For more information on the clear bag policy, visit www.LionSports.net/clear.