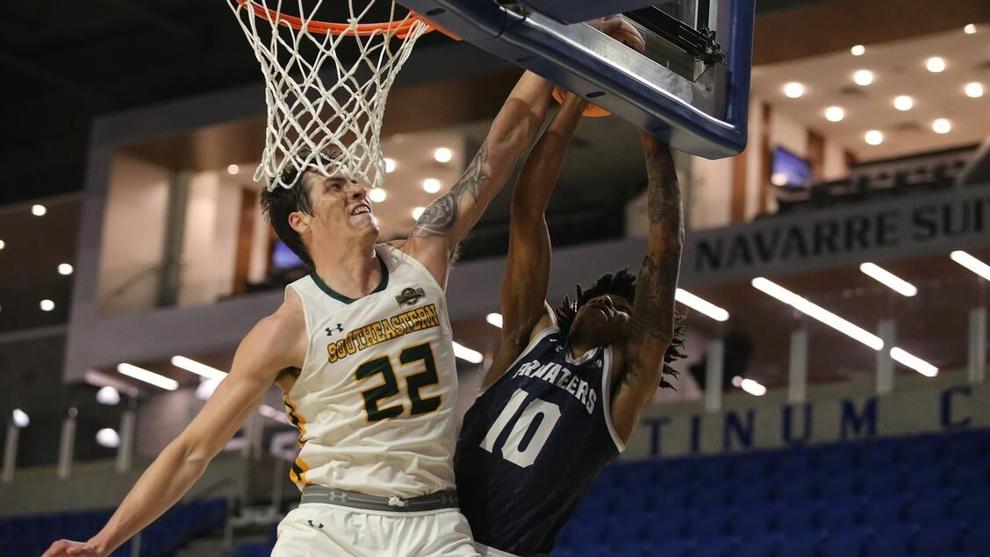 LAKE CHARLES, La. – The Southeastern Louisiana University men's basketball team found a lid on its basket for nearly nine minutes in the second half of its second round game in the 2023 Jersey Mike's Southland Conference Basketball Championships presented by LouisianaTravel.com which allowed New Orleans to turn a tie game into a double-digit lead late and a furious SLU rally fell short as the Lions season came to an end with an 82-78 loss to the Privateers Monday night at the Legacy Center.
After Brody Rowbury got the game's first points, UNO scored the next seven to take a five-point advantage before Roscoe Eastmond buried a three, starting a big run for Southeastern. That bucket was the first three of eight straight points for the Lions, all scored by Eastmond, as SLU reclaimed the lead before a Privateer bucket tried to stem the tide. But that only stymied the Lions attack for a moment as a basket by Boogie Anderson on Southeastern's ensuing possession notched the first two of 10 straight points for the Lions, an 18-2 run all told which was capped by a Nick Caldwell three-pointer which put SLU up 20-9 with 11 minutes left before halftime.
But that 11-point advantage was only shortly lived as UNO answered with an 11-0 run to tie the score just two minutes later before Rowbury got to the rim again to put the Lions back in front. Over the next few minutes, the teams traded the lead before a put back dunk by Caldwell gave SLU a 25-24 lead with just more than six minutes left before halftime. The Privateers then went on another run to close out the half, scoring 12 of the next 16 points to take a 36-29 lead with just over a minute left in the period. Anderson got the last bucket of the half as he scored while being fouled with just less than two seconds left to make it 36-31 at the break.
Rowbury scored the first four points right out of the break as Southeastern scored eight of the first 11 points in the second half with Anderson's layup with 17:30 remaining tying the score at 39-39. Over the next few minutes, UNO would score to reclaim the lead only to see SLU answer to tie the score again. Another Anderson score while being fouled tied the score at 45-45 with just less than 14 minutes remaining, but that would be the last Lion made field goal for almost nine minutes as Southeastern went cold from the field.
UNO scored on their ensuing possession to reclaim the lead, a few possessions later, SLU tied it back up as Caldwell hit a pair of free throws. However, that's when the Privateers started to pull away, going on a 19-6 run while Southeastern was mired in its slump, SLU's only points coming from the free throw line during that stretch, to take its largest lead of the game at 66-53 with 5:30 left before Roger McFarlane hit a three to finally break the seal.
SLU whittled the deficit down to as little as eight points as a three by Matthew Strange made the score 71-63 with three minutes left, but another five-point push by UNO got the deficit back to its peak of 13 points again with just over two minutes left. Southeastern made one last big push to get back in the game as a layup by McFarlane started a 15-4 Lions run. With less than 20 seconds left, Strange was fouled on a three-point attempt, which went in and he converted the free throw for the four-point play to make it a one-possession game. Even after UNO missed one of two free throws on its next possession and a layup by Anderson made it a two-point game with less than ten seconds left, the Privateers got the free throws needed down the stretch to close out the contest.
Anderson wrapped up his final game as a Lion by leading the team in scoring with 18 points and filling up the box score with five rebounds, four assists, and two steals. Rowbury and Caldwell both finished the game with 13 points. Rowbury added five rebounds, an assist, and a blocked shot to his tally while Caldwell was one rebound shy of a double-double with nine boards and had a career high with five blocked shots. McFarlane and Eastmond both finished with 10 points apiece as well. McFarlane also came within a board of a double-double while adding three assists and four steals.
Even with the long drought, Southeastern still ended up shooting at a higher percentage than New Orleans, 45.6% to 44.6%. While UNO also enjoyed a rebounding advantage, 42-33 overall and 17-11 on the offensive glass, SLU still put in more second chance points, 17-15. However, the Privateers made their mark down low, outscoring the Lions 48-32 in the paint. They also took better advantage of turnovers as 17 SLU turnovers turned into 24 UNO points while 16 Privateer turnovers became 19 Lions points.
Southeastern wraps up its 2022-23 campaign with an 18-14 record overall and 12-6 in Southland Conference play. It's the second straight season the Lions finished with a winning record both overall and in conference. It's also the fourth time in the last six seasons SLU has earned a top-four seed, securing at least one bye, in the Southland Conference Tournament.