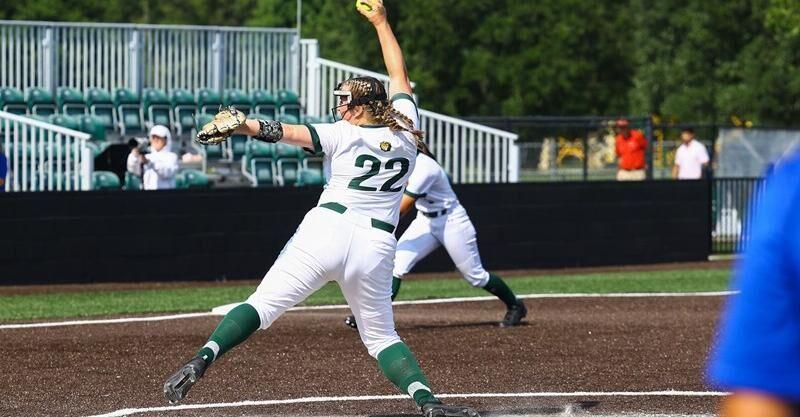 HAMMOND, La. – The Southeastern Louisiana University softball team continued its strong start to the Southland Conference Tournament with a comeback 8-5 win over HBU Wednesday afternoon at North Oak Park.
SLU (39-14) set a new single-season school record for victories and extended its home winning streak to 16 games with Wednesday's victory. HBU fell to 17-28 overall. The Huskies will face UIW in an elimination game in Wednesday's finale.
Southeastern advances to face No. 1 seed McNeese Thursday at 12:30 p.m. The winner will advance to Friday's tournament championship game, while the loser will have to stave off elimination Thursday at 6:30 p.m.
Aeriyl Mass led an 11-hit Lady Lion attack with a 4-for-4 showing, while Bailey Krolczyk contributed three hits and a team-high three RBI. Lexi Johnson added a pair of RBI, while Madisen Blackford (2-for-3) posted her second multi-hit game of the postseason.
After the Huskies scratched across five runs against four SLU pitchers over the first four innings, SLU ace Heather Zumo (20-4) came in and shut the door. The Baton Rouge, Louisiana native threw three shutout innings of relief, allowing one hit and striking out five on the way to becoming the second Lady Lion pitcher to win 20 games in a season.
Zumo is now one win away from matching the single-season school record of 21 wins set by Southeastern Athletics Hall of Famer Rachel Ray in the 2007 season.
HBU took a 1-0 lead off SLU starter MC Comeaux in the top of the first inning. A one-out double by Caitlyn Brockway was followed one batter later by a sacrifice fly by Jacie Roberts to give the Huskies the early advantage.
Southeastern answered right back in the bottom of the first. Mass singled, then Lindsey Rizzo and Madison Rayner drew consecutive walks to load the bases. A sacrifice fly by Maddie Watson scored Mass, then Blackford drew a walk to reload the bases and chase HBU starter Sarah Venker. Krolczyk and Johnson greeted Husky reliever Madison Cotton (5-10) with consecutive RBI to give SLU a 3-1 cushion.
HBU answered in the top of the third inning. Venker cleared the bases with a three-run double to put the Huskies ahead, 4-3.
Southeastern came right back in its half of the third. The Lady Lions took advantage of a HBU error to tie the score at 4-4.
Brockway struck again to put the Huskies back on top in the top of the fourth inning. Her second double of the contest plated Shelby Echols and gave HBU a 5-4 lead.
Southeastern retook the lead for good in the bottom of the fifth inning. Johnson doubled home Blackford to tie the score. Later in the inning, Krolczyk beat out a throw home on a Sadie Hewitt fielder's choice for the go-ahead run. Hewitt kept running and drew a throw towards second, allowing Johnson to race home and put Southeastern up, 7-5.
Zumo retired the first five batters she faced, before HBU loaded the bases with a two-out rally in the top of the sixth inning. Zumo retired Kaicey Hagler to escape the jam unscathed.
Southeastern added an insurance run in the bottom of the sixth inning. Doubles by Watson and Krolczyk resulted in an 8-5 lead heading into the final frame. Zumo retired the Huskies in order in the seventh to keep SLU undefeated in the postseason.
Every Southland Conference Tournament game can be viewed on ESPN+.
HBU – 103 100 0 – 5 8 3 (17-28)
SLU – 301 031 x – 8 11 1 (39-14)
Sarah Venker, Madison Cotton (2), Lyndie Swanson (5) and Jasie Roberts. MC Comeaux, Alyssa Romano (3), Ellie DuBois (3), KK Ladner (4), Heather Zumo (5) and Bailey Krolczyk. W – Zumo (20-4). L – Cotton (5-10). 2B – HBU: Caitlyn Brockway 2 (9), Sarah Venker (4); SLU: Maddie Watson (10), Bailey Krolczyk (9), Lexi Johnson (13). T – 2:47. A – 361.
2022 Southland Conference Softball Tournament | May 10-13 | North Oak Park | Hammond, La. (All games on ESPN+)
Tuesday, May 10
Game 1 – No. 4 Northwestern State 4, No. 5 UIW 3
Game 2 – No. 6 HBU 5, No. 3 Texas A&M-Corpus Christi 4 (8 Innings)
Game 3 – No. 2 Southeastern 10, No. 7 Nicholls 2 (5 Innings)
Wednesday, May 11
Game 4 – No. 1 McNeese 6, Northwestern State 5 (8 Innings)
Game 5 – Southeastern 8, HBU 5
Game 6 – Texas A&M-Corpus Christi vs. Nicholls, 5:45 p.m. (Elimination Game)
Game 7 – UIW vs. HBU, 8:15 p.m. (Elimination Game)
Thursday, May 12
Game 8 – Northwestern State vs. Game 6 Winner, 11 a.m. (Elimination Game)
Game 9 – McNeese vs. Southeastern, 1:30 p.m.
Game 10 – Game 8 Winner vs. Game 7 Winner, 4 p.m.
Game 11 – Game 10 Winner vs. Game 9 Loser, 6:30 p.m.
Friday, May 13
Game 12 – Game 9 Winner vs. Game 11 Winner, 12 p.m.
Game 13 – Necessary if Game 11 Winner wins Game 12, 30 minutes after Game 12
SOCIAL MEDIA
For more information on Southeastern Softball, follow @LionUpSoftball on Twitter and Instagram, like /SLUathletics on Facebook and subscribe to the SLUathletics YouTube channel.
HOME RUN CLUB / S CLUB
Fans interested in becoming active supporters of the softball program are encouraged to join the Home Run Club. Lady Lion softball alums are encouraged to join the exclusive S Club, which is restricted to Southeastern athletic letter winners.
All membership fees and donations to both the Home Run Club and S Club (softball) are available for the exclusive use of the Southeastern softball program. Membership information is available by contacting the Lion Athletics Association at laa@southeastern.edu or (985) 549-5091 or visiting www.LionUp.com.
CLEAR BAG POLICY
Southeastern Athletics instituted a clear bag policy for all ticketed events (softball, baseball, football and basketball), effective with the start of the 2018 football season. For more information on the clear bag policy, visit www.LionSports.net/clear.