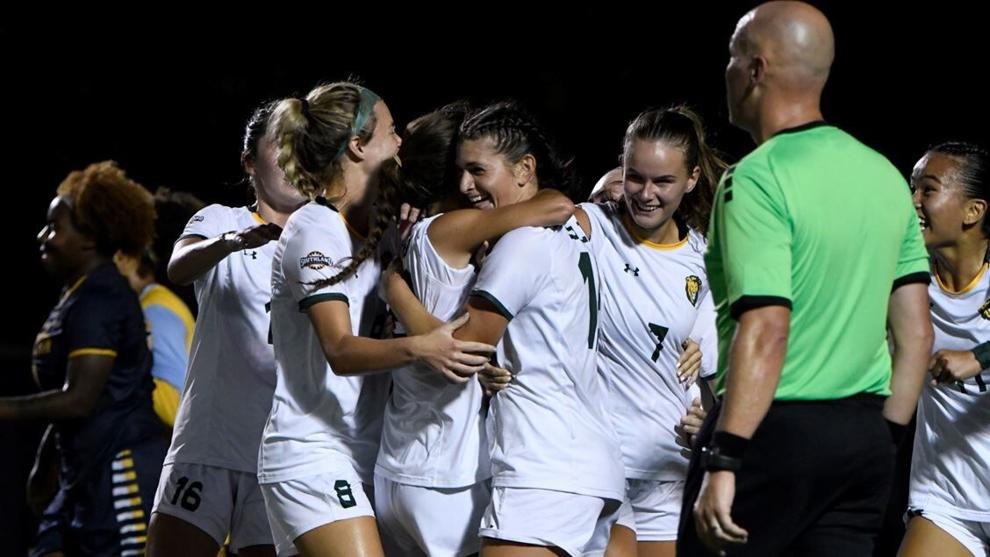 HAMMOND, La. – The Southeastern Louisiana University women's soccer team took home a win on the road against McNeese 2-1.
Southeastern (2-1, 1-0) brought home their first conference victory against the McNeese Cowgirls (3-4, 1-1) 2-1. The two goals scored for the Lady Lions were made by Sara Bancevic with assists by Hailie Yoder and Mya Guillory and by Nicole O'Neill with an assist by Claire Huston.
Southeastern was down by one early in the first half of the match when McNeese's Matilde Tesgaard scored with an assist from Avery Baker in the 31st minute of the match. Mya Guillory had a few shots on goal early on but Southeastern would not score until Sara Bancevic would answer McNeese's goal with one of her own a few minutes later. In the second half of the match, Maycie Massingil and Makenzie Maher would attempt shots but they would be saved by McNeese goalkeeper, Jackie Kelly. Southeastern wouldn't stay tied for long as the winning goal was scored by Nicole O'Neill in the 64th minute of the match.
SLU goalkeeper Olivia Griffin finished with two saves while Southeastern had 9 shots and five shots on goal. Mya Guillory led Southeastern with three shots.
This is the first conference win for first year head coach Nathan Gillespie.
Next up the Lady Lions will take on Nicholls (1-5-1) at Strawberry Stadium Friday at 7 p.m. The match will be streamed on ESPN+.
SCORE ONE MORE CLUB/S CLUB
Fans interested in becoming active supporters of the women's soccer program are encouraged to join the Score One More Club. Lion alums are encouraged to join the exclusive S Club, which is restricted to Southeastern athletic letter winners. All membership fees and donations to Score One More Club are available for the exclusive use of the Southeastern soccer program. Membership information is available by contacting the Lion Athletics Association at laa@southeastern.edu or (985) 549-5091 or visiting www.LionUp.com.
SOCIAL MEDIA
For more information on Southeastern Soccer, follow @LionUpSoccer and @Nathan90G on Twitter, like /SLUathletics on Facebook and subscribe to the SLUathletics YouTube channel.