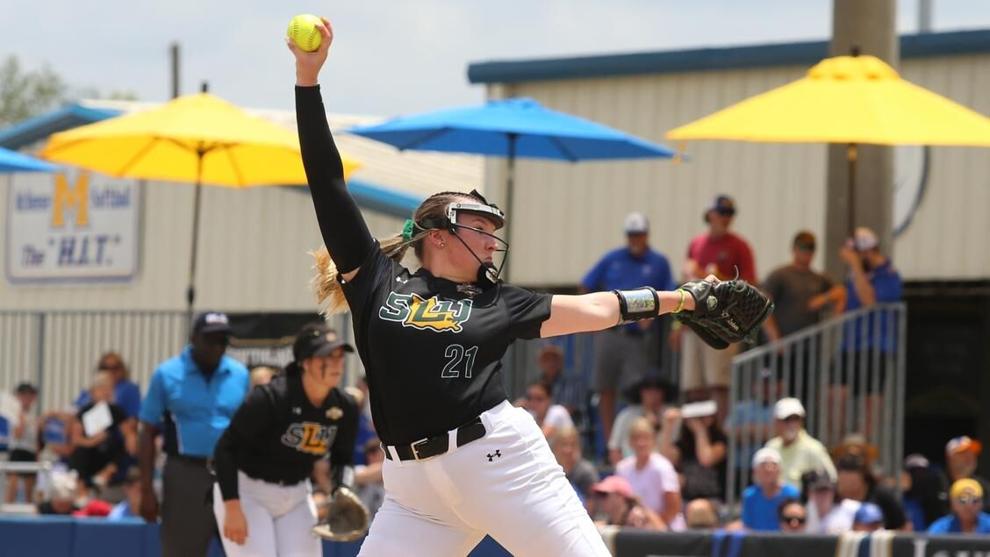 LAKE CHARLES, La. – McNeese's Reese Reyna hit a walk-off solo home run in the bottom of the eighth inning to give the Cowgirls a 1-0 victory over the Southeastern Louisiana University softball team in the Southland Conference Tournament championship game Saturday afternoon at Joe Miller Field at Cowgirl Diamond.
Southeastern fell to 47-14 overall with the loss, while the top-seeded Cowgirls improved to 44-14 overall. The NCAA Tournament field will be announced Sunday at 6 p.m. on ESPN2.
The Lady Lions out-hit the Cowgirls, 7-2, but it was Reyna's big fly that provided the difference. Madison Rayner led Southeastern with a pair of hits, while Ka'Lyn Watson Maria Detillier, Bailey Krolczyk, Lexi Johnson and Maddie Watson each had hits for SLU.
KK Ladner (15-2) saw her streak of 14 straight decisions come to an end, despite one of her best efforts of the season. Ladner scattered two hits, walked three and struck out five in the complete-game effort.
Ladner represented the Lady Lions on the Southland Conference All-Tournament team, along with fellow senior Rayner, Johnson, Ka'Lyn Watson and Audrey Greely.
Southeastern put base runners on against the Lady Lions in six of seven innings, but could never get the key base hit against the McNeese pitching duo of Whitney Tate and Ashley Vallejo (18-8).
Ladner retired the Cowgirls in order in four different innings and didn't allow her first hit until the bottom of the fifth inning. After retiring the first two Cowgirls in the bottom of the eighth inning, Ladner saw Reyna hit a 1-0 pitch just inside the left field foul pole to give McNeese its latest victory.
The 2023 Lady Lions have enjoyed another record-breaking season under eight-year head coach Rick Fremin. SLU set new team single-season school records for wins (47), conference wins (19), winning percentage (.783), fewest losses (13), runs (353), triples (23), RBI (305), total bases (742), sacrifice flies (20), walks (184), innings pitched (399.2), strikeouts (350) and shutouts (13). Krolczyk, the first Lady Lion to be named SLC Player and Hitter of the Year, set new individual school-marks for longest hitting streak (22), extra-base hits (29) and total bases (117).
SLU – 000 000 00 – 0 7 2 (47-14)
MCN – 000 000 01 – 1 2 1 (44-14)
KK Ladner and Bailey Kroczyk. Whitney Tate, Ashley Vallejo (6) and Emily Phillips. W - .Vallejo (18-8). L – Ladner (15-2). HR – MCN: Reese Reyna (2). 2B – SLU: Maddie Watson (5), Madison Rayner (8). T – 2:24. A – 607.
2023 Southland Conference Softball All-Tournament Team
KK Ladner, Southeastern
Madison Rayner, Southeastern
Lexi Johnson, Southeastern
Audrey Greely, Southeastern
Ka'Lyn Watson, Southeastern
Reese Reyna, McNeese (MVP)
Mariana Torres, McNeese
Alayis Seneca, McNeese
Whitney Tate, McNeese
Ashley Vallejo, McNeese
Alexa Poche', Nicholls
Cameron Niedenthal, Lamar