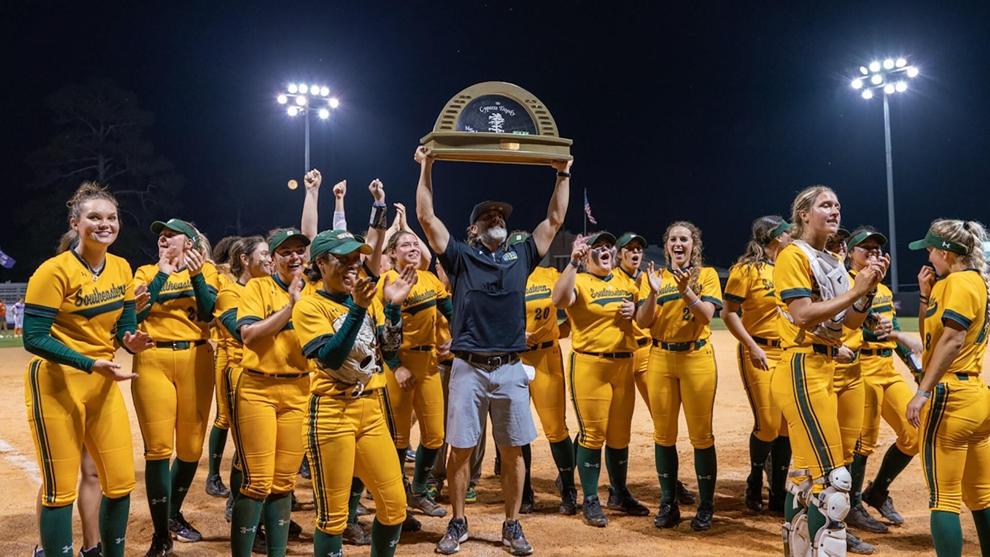 NATCHITOCHES, La. – The Southeastern Louisiana University softball team retained the Cypress Trophy with a Southland Conference doubleheader sweep of Northwestern State Friday evening at Lady Demon Diamond.
SLU (43-12, 18-5 SLC) added to its single-season victory total with the two wins over the Lady Demons (24-24, 10-13 SLC), evening the Cypress Trophy series at 2-2. For the first time in school history, Southeastern has won all of its Southland Conference series in a season, finishing 8-0 in league three-game sets in 2023.
The Lady Lions are locked in to the No. 2 seed in next week's Southland Conference Tournament. McNeese clinched the regular season title and the SLC's top seed with a doubleheader sweep at HCU Friday.
The Lady Lions climbed out of an early 2-0 hole to win Thursday's opener, 7-5, building a five-run lead and holding off a late NSU rally. Bailey Krolczyk led SLU with a pair of hits, while Madison Rayner, Maddie Leal and Maria Detillier each had RBI doubles.
Ellie DuBois (1-0) tossed 2.1 innings of shutout relief to earn the win in the circle for Southeastern.
SLU completed the doubleheader sweep with a 3-0 victory in the nightcap. Cera Blanchard (16-6) struck out a season-high 10 Lady Demons in the complete-game shutout victory. Audrey Greely led the Lady Lions with two hits and a pair of RBI, also scoring a run off an RBI single by Ka'Lyn Watson.
The series wraps up Saturday at 10 a.m. as first pitch has been moved up two hours to avoid expected inclement weather. Saturday's regular season finale will be televised on ESPN+.
Game One – Southeastern 7, Northwestern State 5
Northwestern State chased SLU starter KK Ladner from the game in the bottom of the second inning. A two-run home run by Makenzie Chaffin gave the Lady Demons an early advantage and removed the Lady Lion ace from the game. DuBois came in and limited the damage to a 2-0 deficit.
Southeastern was held hitless through the first three innings by NSU ace Maggie Darr, before the Lady Lions chased her in the fourth with back-to-back singles by Krolczyk and Lexi Johnson.
Ryleigh Denton (4-5) came in to relieve Darr and walked Maddie Watson, then hit Audrey Greely to force in the game's first run. Rayner then laced a double into the left centerfield gap, clearing the bases and giving SLU a 4-2 lead.
Southeastern added to its lead in the top of the sixth inning with a two-out rally. Ka'Lyn Watson drew a walk and scored on a run-scoring double by Leal. After a Cam Goodman walk, Detillier cleared the bases with a two-run double to put the Lady Lions on top, 7-2.
Northwestern State cut into the lead with a run in the bottom of the sixth inning, then put a scare into the Lady Lions in the final frame, cutting the lead to 7-5 on a two-run home by Keely Dubois. The Lady Demons would get no closer, as Ladner retired Kat Marshall and Chaffin to close out the win.
SLU – 000 403 0 – 7 6 0 (42-12, 17-5 SLC)
NSU – 020 001 0 – 5 7 0 (24-23, 10-12 SLC)
KK Ladner, Ellie DuBois (2), MC Comeaux (4), Ladner (6) and Bailey Krolczyk, Blaire Bizette (6). Maggie Darr, Ryleigh Denton, Haley Parker (6) and Ashlyn Walker. W – DuBois (1-0). L – Denton (4-5). HR – NSU: Makenzie Chaffin (4), Keely Dubois (1). 2B – SLU: Madison Rayner (7), Maddie Leal (7), Maria Detillier (10). NSU: Laney Roos (10), Taylor Williams (9). T – 2:22. A – 206.
Game Two – Southeastern 3, Northwestern State 0
Blanchard and NSU starter Kenzie Seely matched zeroes until Southeastern took the lead in the top of the fourth inning. Krolczyk led off the frame with a double off the left field fence, then scored on an RBI single by Greely to put the Lady Lions on top, 1-0.
SLU added to its lead in the top of the sixth inning. Greely singled home pinch runner Britt Bourgoyne and scored one out later on an RBI base knock by Ka'Lyn Watson to stretch the Southeastern advantage to 3-0.
Northwestern State put runners on against Blanchard in six of seven innings, but the Metairie, Louisiana native was able to hold off the Lady Demons for her team-high 16th win of the season.
SLU – 000 102 0 – 3 8 1
NSU – 000 000 0 – 0 6 0
Cera Blanchard and Bailey Krolczyk. Kenzie Seely and Ashlyn Walker. W – Blanchard (16-6). L – Seely (6-7). 2B – SLU: Bailey Krolczyk (16); NSU: Makenzie Chaffin (7). T – 1:56. A - 208.
SOCIAL MEDIA
For more information on Southeastern Softball, follow @LionUpSoftball on Twitter and Instagram, like /SLUathletics on Facebook and subscribe to the SLUathletics YouTube channel.
HOME RUN CLUB / S CLUB
Fans interested in becoming active supporters of the softball program are encouraged to join the Home Run Club. Lady Lion softball alums are encouraged to join the exclusive S Club, which is restricted to Southeastern athletic letter winners.
All membership fees and donations to both the Home Run Club and S Club (softball) are available for the exclusive use of the Southeastern softball program. Membership information is available by contacting the Lion Athletics Association at laa@southeastern.edu or (985) 549-5091 or visiting www.LionUp.com.
CLEAR BAG POLICY
Southeastern Athletics instituted a clear bag policy for all ticketed events (softball, baseball, football and basketball), effective with the start of the 2018 football season. For more information on the clear bag policy, visit www.LionSports.net/clear.