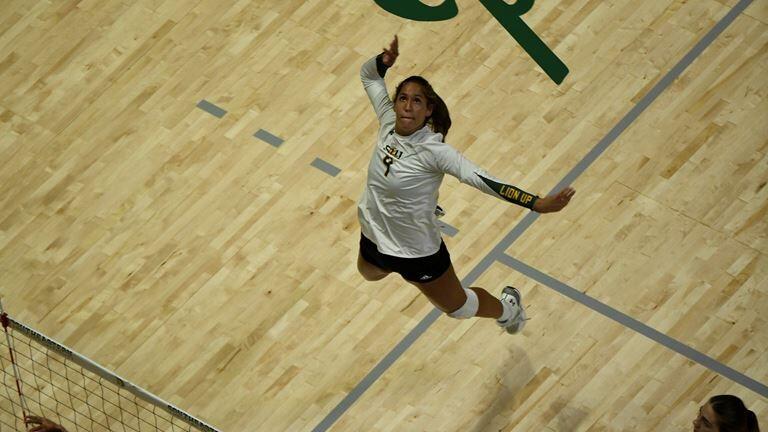 STEPHENVILLE, Texas – The Southeastern Louisiana University volleyball team suffered its first loss of the season, coming out on the wrong end of a 25-20, 26-24, 21-25, 25-19 decision to host Tarleton State on the opening day of the Dr. Pam Littleton Classic Friday morning at Wisdom Volleyball Gym.
Southeastern fell to 4-1 overall with the loss, while TSU also ran its record to 4-1. Both the Lady Lions (.289) and the host Texans (.281) were effective on the attack, but the match went the way of Tarleton State.
Kailin Newsome posted a double-double with 15 kills and 13 assists to lead Southeastern. Cicily Hidalgo (10 kills), Karlee Wilkerson (nine) and Alexis Logarbo (eight) were both key parts of the Southeastern attack, while Peyton Stokley and Gracie Duplechein shared team-high honors with 18 assists each.
Ansley Tullis paced the Lady Lions with 16 digs from her libero position. Logarbo and Hannah Brewer each posted a match-high seven blocks.
Allie Hair led TSU with 19 kills, while Megan Hodges and Melina Maldonado contributed 27 and 23 assists, respectively. Ana Costas led all players with 20 digs for the Texans.
A competitive first set featured seven ties with the last coming at 16-16 when TSU took advantage of three SLU errors in a quick 4-0 run. The Texans built on the 20-16 lead and closed out the opening set, 25-20.
Southeastern controlled much of the action in the second set, but couldn't even the match. The Lady Lions had set point with a 24-20 lead, but the Texans took the next six points to take a two-set lead.
SLU avoided the sweep by taking the third set, 25-21. The Lady Lions' .357 hitting percentage for the set was their highest of the match.
The Lady Lions hit .300 in the final set, but it was not enough against the Texans. Tarleton State hit .464 in the final stanza to close out the match.
Southeastern will return to action Saturday, facing Prairie View at 10 a.m. and Tennessee State at 1 p.m. Both of Saturday's matches will be streamed on WACInternational.tv (free subscription required).
DIGGIN' IT CLUB / S CLUB
Fans interested in becoming active supporters of the Southeastern volleyball program are encouraged to join the Diggin' It Club. Lion volleyball alums are encouraged to join the exclusive S Club, which is restricted to Southeastern athletic letter winners.
All membership fees and donations to both the Diggin' It Club and S Club (volleyball) are available for the exclusive use of the Southeastern volleyball program. Membership information is available by contacting the Lion Athletics Association at laa@southeastern.edu or (985) 549-5091 or visiting www.LionUp.com.
SOCIAL MEDIA
For more information on Lady Lions Volleyball, follow @LionUpVB or @JWhiteSLU on Twitter, @LionUpVB on Instagram, like /SLUathletics on Facebook and subscribe to the SLUathletics YouTube channel.