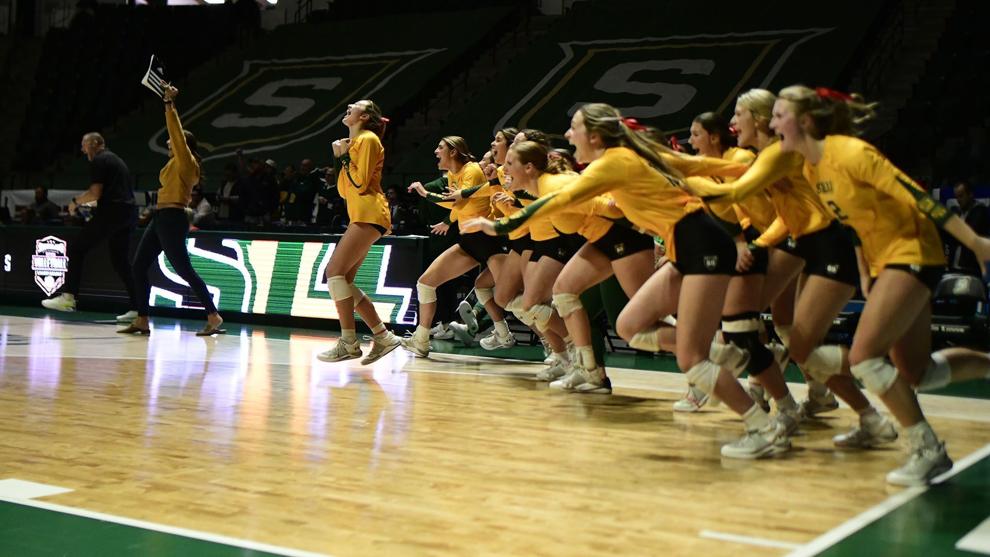 HAMMOND, La. – Double-double efforts by Kailin Newsome, Cicily Hidalgo and Gracie Duplechein helped the No. 2 seed Southeastern Louisiana University volleyball team to a 3-1 victory over McNeese in the semifinals of the Southland Conference Tournament Saturday afternoon in the University Center.
With the 25-22, 27-29, 25-22, 25-21 victory – the program's first-ever SLC Tournament win – the Lady Lions (24-7) advance to face No. 1 seed HCU (23-9) Sunday at 2 p.m. for the Southland Tournament title and the league's automatic bid in the NCAA Tournament.
Newsome finished with 23 kills, 21 digs and a .327 attack percentage to lead SLU, while Hidalgo added 16 kills and 19 digs of her own. Ansley Tullis added 15 digs of her own, while Duplechein finished with 12.
Duplechin and Ariana Hebert shared setting duties for Southeastern, finishing with 33 and 27 assists, respectively. Crispin Adams finished with a match-high three blocks for the Lady Lions.
McNeese (18-16) was led by Nejra Hanic's 14 kills. Mia Perales paced the Cowgirls with 21 assists, while Bailey Tillman posted 23 digs. McKenzie Moore finished with six blocks to lead the visitors.
Southeastern took the opening set, 25-22. The first set featured 16 ties and six lead changes, as the Lady Lions pulled away by closing the set on a 9-4 run. A kill by Adams provided the clinching point for SLU.
McNeese evened the match in the second set. The Cowgirls took an early 9-3 lead, but Southeastern battled back in another competitive stanza that included eight ties. SLU fought off four set points before McNeese eventually held on take the set, 29-27, to knot the match.
The advantage went back to the Lady Lions in the third set. Southeastern hit .267 in the 25-22 set. Kills by Newsome, Hidalgo and Karlee Wilkerson keyed a 6-3 run to close out the set and put SLU back on top.
Southeastern closed out the match with its most efficient set of the evening. The Lady Lions hit .444 in the final set, taking it, 25-21, to improve to 13-0 this season at home.
Sunday's championship match can be seen live on ESPN+ with Garrett Walvoord, Fran Flory and Mackenzie Fletcher on the call. The winner will be part of the NCAA Tournament field, which will be announced Sunday, Nov. 27 at 6:30 p.m. (Central) on ESPNU.
2022 Southland Conference Tournament | Nov. 17-20 | Hammond, La. | University Center
Thursday, Nov. 17 | First Round
Match 1 | No. 5 Northwestern State 3, No. 8 UIW 2 (22-25, 19-25, 25-20, 25-20, 15-12)
Match 2 | No. 7 Texas A&M-Commerce 3, New Orleans 1 (27-25, 25-20, 21-25, 25-19)
Friday, Nov. 18 | Quarterfinals
Match 3 | Northwestern State 3, No. 4 Texas A&M-Corpus Christi 2 (23-25, 17-25, 30-28, 25-17, 15-11)
Match 4 | No. 3 McNeese 3, Texas A&M-Commerce 0 (25-15, 25-18, 25-11)
Saturday, Nov. 19 | Semifianls
Match 5 | No. 1 HCU 3, Northwestern State 1 (25-21, 26-24, 18-25, 25-19)
Match 6 | No. 2 Southeastern 3, McNeese 1 (25-22, 27-29, 25-22, 25-21)
Sunday, Nov. 20 | Finals
2 p.m. | HCU vs. Southeastern (ESPN+)
DIGGIN' IT CLUB / S CLUB
Fans interested in becoming active supporters of the Southeastern volleyball program are encouraged to join the Diggin' It Club. Lion volleyball alums are encouraged to join the exclusive S Club, which is restricted to Southeastern athletic letter winners.
All membership fees and donations to both the Diggin' It Club and S Club (volleyball) are available for the exclusive use of the Southeastern volleyball program. Membership information is available by contacting the Lion Athletics Association at laa@southeastern.edu or (985) 549-5091 or visiting www.LionUp.com.
SOCIAL MEDIA
For more information on Lady Lions Volleyball, follow @LionUpVB or @JWhiteSLU on Twitter, @LionUpVB on Instagram, like /SLUathletics on Facebook and subscribe to the SLUathletics YouTube channel.