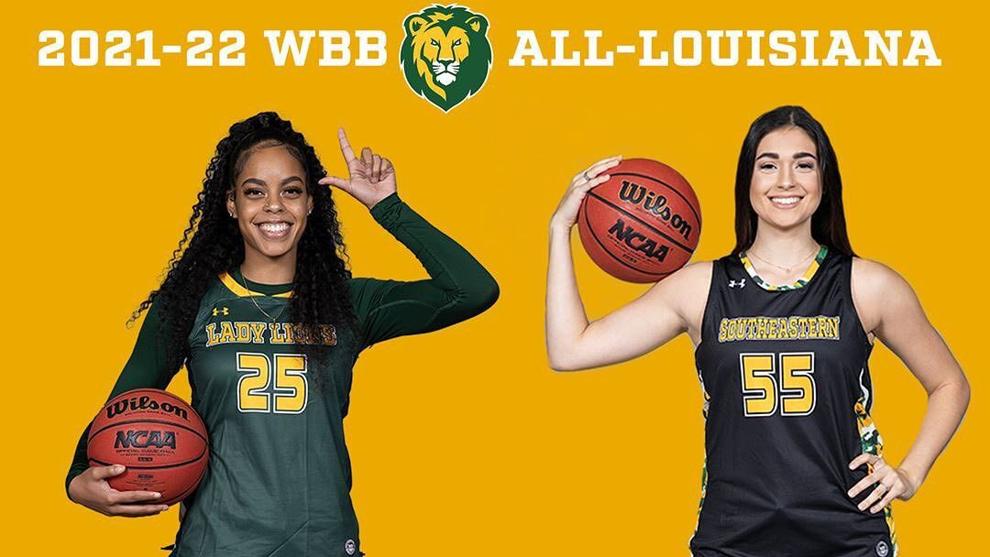 HAMMOND, La. – Southeastern Louisiana University senior forward Caitlyn Williams and sophomore guard Hailey Giaratano were named to the 2021-22 Louisiana Sports Writers Association All-Louisiana Women's Basketball Teams, which were released by the LSWA on Wednesday.
Williams was named to the third team, while Giaratano was an honorable mention selection. The all-state selections were the first for both Lady Lions.
Williams and Giaratano were two of the top performers for a Southeastern squad that finished 16-11 overall and 10-4 in Southland Conference play. The duo was part of a SLU team that advanced to the Southland Tournament championship game for the first time in school history.
Williams, a native of Brusly, Louisiana, averaged 9.8 points and 7.6 rebounds per contest on the way to being the first Lady Lion to earn first team All-Southland honors since 2008-09. Williams, who ranked among the Southland leaders in scoring (13th), rebounds (3rd) and field goal percentage (1st), finished her Southeastern career on the program's leaderboard in rebounds (848, 6th), blocked shots (93, 3rd) and games played (121, 3rd).
Giaratano was named third team All-Southland Conference in March for the second straight season. The Ponchatoula, Louisiana native averaged 7.6 points per game, while ranking third in the league with 3.5 assists per outing and boasting the league's best assist-to-turnover ratio (1.8). She saved her best play for the postseason, representing SLU on the All-Tournament team and the excellent student also was named to the Southland All-Academic team for the second straight season.
The All-Louisiana teams were selected by the state's media members and sports information directors. LSU's Khayla Pointer was named the Player of the Year, while Moon Ursin of Tulane was tabbed the Newcomer of the Year. McNeese's Kalli Chamberlain earned Freshman of the Year honors and LSU head coach Kim Mulkey added state Coach of the Year accolades to her previous national Coach of the Year win.
Giaratano and her Lady Lion teammates will tip off the 2022-23 season in November.